Weekly Overview: Human Rights Situation in Mon State, Karen State, and Tanintharyi Region
HURFOM | May Week One
The first week of May in Southeastern Burma was met with more air and ground attacks by the Burmese military. The targeting of civilians remains ongoing as lives continue to be caught in the crossfire of artillery shelling and indiscriminate firing into local areas. In addition, junta forces increased their operation of thirty-seven checkpoints along the Tanintharyi Highway and have been committing illegal taxation and extortion against travelers and vehicle drivers, according to local sources and those using this 180-mile-long motor highway.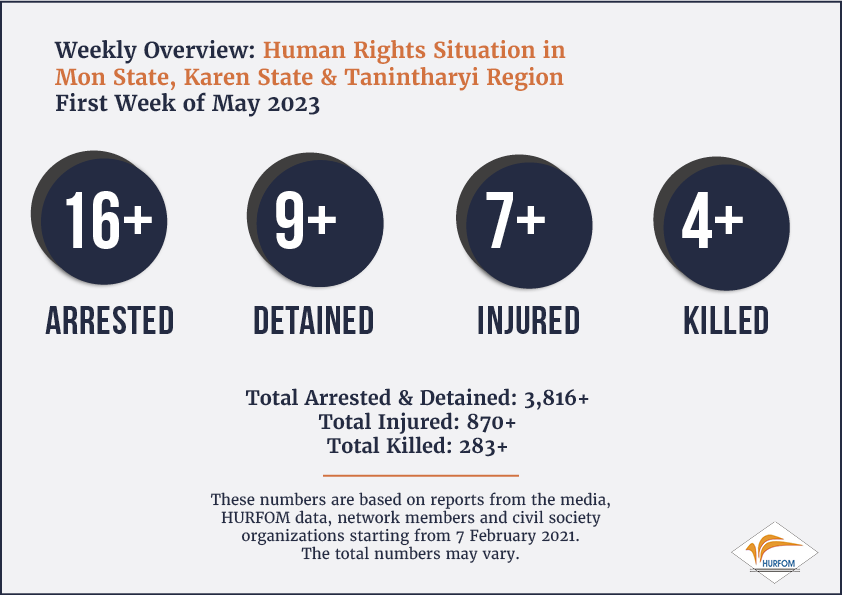 HURFOM fieldworkers had chances to speak with reliable sources. All believed that these were the results of the junta authorizing the central administration to their security troops to utilize a self-help policy due to inadequate support from the state and regional levels to their security forces:
"It is as if they are allowed to earn their daily incomes at the bottom level; this means more and more extortions, illegal levying taxes and arbitrarily arrests and demanding ransoms against civilians," said a local.
According to one of the cargo drivers HURFOM spoke with on 2 May, they are forced to pay various illegal taxes: "Sometimes the junta extorts us for money and our properties. It is all unjust taxation. Imagine how little money we have left after doing our jobs to feed our families," the 50-year-old truck driver from Ye Township, Mon State added.
Even the daily road users, such as the farmers, rubber plantation workers, and inhabitants, suffer from the junta's actions. A 30-year-old Tavoyan rubber plantation farmer from a village in Yebyu Township told reporters: "We have to encounter thieves and criminals in our daily life while crossing their checkpoints and security gates."
Before the coup, there were only seven tollgates for road tax. After the coup, the junta occupied all these tollgates for security reasons and increased another 30 tollgates and checkpoints along the motor road to the Southern Region.
A truck driver who has to use this highway daily said. "We have been in this living hell for over two years. Everything has collapsed, and we are suffering under the military's boots. On top of that, we face these kinds of robberies at gunpoint on the road almost daily. More and more road users of this expressway have given up their jobs because of these illegal charges," said a small-scale merchant from Yebyu Township, Dawei.

Meanwhile, indiscriminate firing continues to create fear and alarm. Network reporters documented that the armed junta groups based near Zahar Village, Dawei launched at least two dozen artillery mortars into the civilian areas and on villages indiscriminately and injured at least five civilians, including children, on May 2, 2023. This is the second time the junta intentionally dropped over 20 artillery shots into the village. Near the incident, the People's Defence Force said the Junta's Artillery Regiment Base stationed at Zaha Hill fired continuously toward Kadoon Shaung village. However, no conflict between opposition forces was active. The attacks harmed five individuals. Mortar shell injuries hit mostly the heads and legs of the children due to the artillery fired by the military council. That night, they were taken to Dawei Hospital.
Lastly, the arrests and detentions continue to target those who stand for their beliefs and opinions. About three people were arrested the first week of May, including a young man arrested on May 4. These young people were abducted for their views shared on social media, including their condemnation of the extrajudicial killings committed by the junta.
Comments