10 houses burnt down and two others damaged during Jone Doe armed clash
HURFOM: On January 25th  and 26th, 2023, the Burmese army and the joint forces of the Karen National Liberation Army (KNLA) and the People's Defense Forces (PDF) fought a battle  in Kan Ne village nearby Jone Doe Town, Kaw Ka Rate Township, in Karen State.
More than10 houses were burnt to the ground and another two were damaged during the incident.
"The houses were on fire but no one dared try to stop it. More than 10 houses were burnt down today and yesterday," said a Kan Ne villager.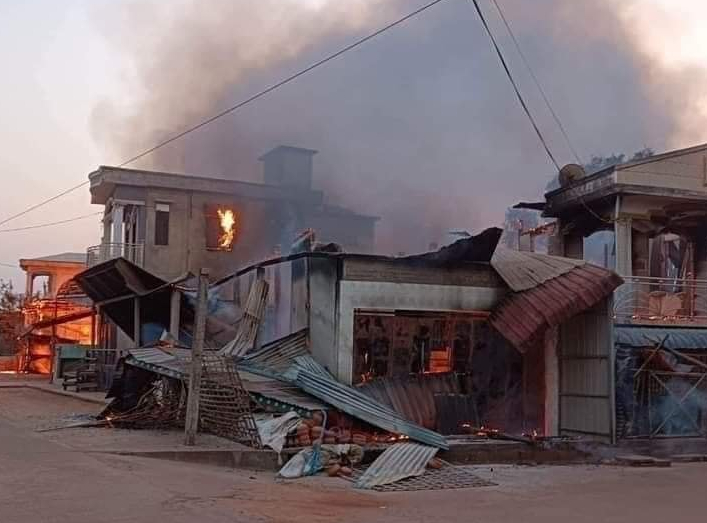 On January 24th, the KNLA entered Kan Ne village and on the 25th, the KNLA and the PDF burnt the house of a militia leader from the military junta. The fire got so big that eight houses were also burnt down.
"Most villagers had already fled the village. The Abbot requested me to stay with him so I was in the monastery. The KNLA and the PDF burnt down the house of the militia leader and I saw the smoke coming out. The fire spread to other houses. They tried to stop it but they couldn't. Then they requested villagers help to try and stop the fire. At that time, many houses were already burnt down," said the villager.
Two houses were also heavily damaged from artillery attacks launched by the military junta.
"On January 26, the house of the village Administrator was burnt down again. Now both the Karen and the Burmese army have left. One or two villagers have gone back and looked at the situation. If the situation is good, the others will go back home. Now everybody is just in a wait and see mode," said a villager from Tha Yet Taw village.
About 5,000 villagers from surrounding nine villages fled and most have taken shelter at the Mon monasteries in Kaw Ka Rate Town.
Comments