Weekly Overview: Human Rights Situation in Mon State, Karen State, and Tanintharyi Region
Second Week of January 2023
HURFOM: It was another devastating week across Southeastern Burma where the junta violated international law again by deploying an airstrike in Karen State that claimed the life of a young mother and her two-year-old son. The Burma Army is encouraged to commit these atrocity crimes because they continue to face a lack of severe repercussions from the international community.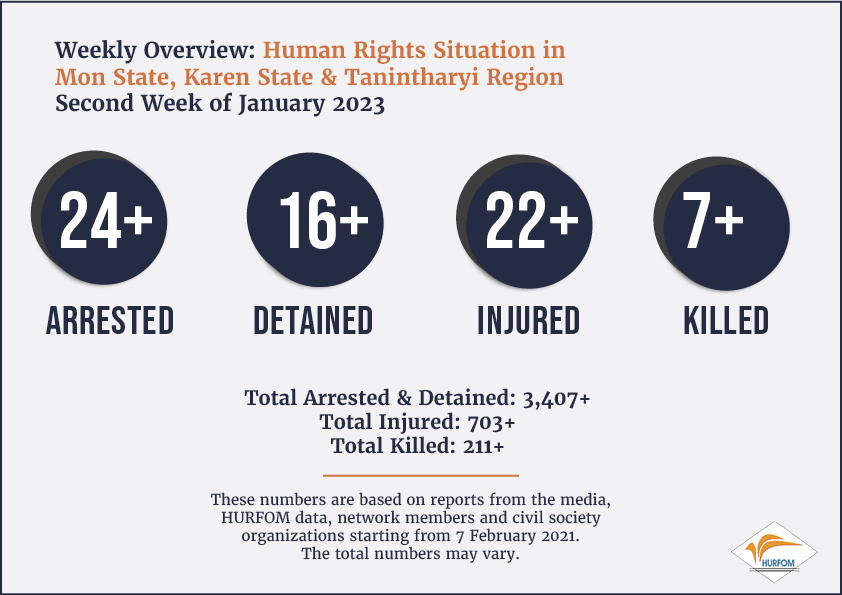 The Human Rights Foundation of Monland (HURFOM) remains adamant in our calls for sanctioning aviation fuel and a global arms embargo. The lives of innocent civilians are on the line. More than 3,500 villagers have fled their homes due to recent armed clashes in southern Karen, at least 3,000 fled in Tanintharyi, and 670 households in Mon Territory. The situation demands a response beyond words of condemnation. Action, which includes a referral of the junta to the International Criminal Court, is crucial for ensuring justice for the people of Burma.
Recently displaced people who fled their homes due to renewed fighting in Wakone village, Dawei, reported their villages had been scorched routinely. The junta is continuing to burn houses and threatening people to leave. "The junta entered the village on January 8, around 6 AM, and a few minutes later, smoke billowed up from the village," according to house owners who escaped clashes. Currently, the junta is patrolling Dawei East Village. More than 800 locals have already abandoned their homes.
A week-long armed clash between the junta forces and the joint forces of the Karen National Liberation Army and People's Defense Forces n Taung Zun village of Kyarinnseikyi Township, Karen State, led to the deaths of at least fourteen local innocent civilians. According to local Emergency Response Team sources, more than 3,500 villagers have fled their homes due to recent armed clashes.
While the military commits crimes with impunity, they are still trying to justify their ill attempts at holding elections which will not be free nor fair. The Mon State Junta Administration General Administrative Department (GAD) is conducting a census of Mon State's townships in preparation for the election.
Arbitrary arrests are also ongoing. According to a reliable source close to the junta's Special Branch Police Force, the soldiers arrested several young women, including four from Ye town and six from Abaw village and Kyar-tan village, Ye Township Mon State. They were tortured and examined at a military training camp. Presently, HURFOM reporters from the area confirmed that the junta forces jailed four women detainees out of 10. The victim's family members have appealed for the truth and justice to emerge.

In addition, local villagers reported that three people from their village, Winkaphaw, were abducted by a military column of LIB 403 about a week ago. They have not yet been released and are being interrogated at the military camp in the area. The three detained villagers from Winka Phoe who were arbitrarily arrested near the monastery of the village are Ko Naung, age 27, Ko Naing Zaw Linn, age 30, and Ko Mae Doe, age 38, from Nyaung Zin village, Thayetchaung, Dawei.
HURFOM condemns the arrest and abduction of innocent civilians and the ongoing targeting of villagers unfairly caught in the crossfire of violence. Justice has been delayed for too long.
Comments