Weekly Overview: Human Rights Situation in Mon State, Karen State, and Tanintharyi Region
First Week of December 2022
HURFOM:
By the end of November 2022, the number of those arrested, detained, killed, and injured only continued to increase. Since the Human Rights Foundation of Monland (HURFOM) began documenting the atrocities being perpetrated by the junta following the attempted coup, thousands have faced unjust sentences and civilian life under the regime has only deteriorated further. Safety and security concerns are rising across Southeastern Burma, where the Burma Army has used excessive force to strip communities of their homes, livelihoods, and possessions. Their endless pursuit of power comes at the cost of humanity as over one million people are displaced throughout the country.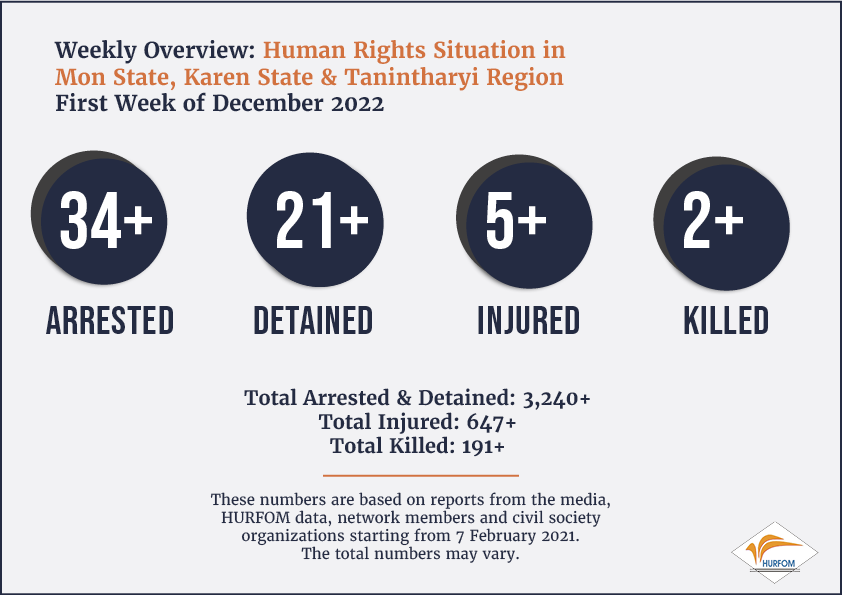 Ongoing arrests and abductions are taking place in violation of international human rights laws. Throughout the last week, HURFOM received several kidnapping cases and warrantless arrests. These attacks and assaults on civilians have forced hundreds to flee, fearing the same treatment. HURFOM condemns these deliberate actions by the junta, which are only done to terrorize and intimidate local people.
In the Tanintharyi region, nearly forty residents of Pala township, Myaike District, were forcibly detained. Ransoms for their freedom were demanded from 50 lakh MMK to 100 lakh MMK. An estimated 700 families are fleeing to more secure sites in the region's eastern part. These arbitrary arrests were conducted by the joint forces of the junta's Light Infantry Battalion 270 and Logistics Battalion No. 937 located in Myeik District. Locals reported that the troops had arrested over two dozen people in Pala town, and they were asking for 50 to 100 lakhs per person. "At a time like this, who else afford as much as the junta troops ask for? The amounts they demand are impossible for ordinary people to pay. Because of these arrests, the rest of the local people fled to avoid arrest," a 60-year-old male villager who remained alone in his house expressed on November 27. Three to four families paid the ransom to free their family members and were released. The junta continues to chase civilians, extorting them in various ways.
Ko Atar Minn, a young person, who was being treated for the gastrointestinal disease at 'Mediland Hospital,' located in Dawei, was abducted by the junta on November 27. HURFOM discovered that after his arrest, the junta forced him to call his parents, who were also later detained. After detecting Ko Atar Minn, who was in the hospital, he was asked to call his parents. Then, the junta grabbed them when they arrived at the hospital entrance. "Both patient and parents were arrested and taken away via the Army lorries," said an eyewitness.
In another case, a humanitarian aid worker was targeted when a staff member of the District Red Cross Society (RCS) was abducted by the secret police and junta forces in Dawei on November 27 at noon. U Ko Ko Naing was arrested in Dawei, according to his co-workers. He is a Senior Member of RCS in this Region. Joint troops forcibly took him on an Army Lorry while he was going to attend the meeting at Divisional Office in Dawei. The junta soldiers and police officers also arbitrarily confiscated the emergency van belonging to the RCS when he was arrested. Following his abduction, his colleagues feared he would be interrogated in military custody. That evening, Dawei Junta Administration Departments tightened security and patrolled the city of Dawei at night, checking the guest list.

HURFOM also reported on arbitrary arrests in Billin Township, Mon State, after a pro-junta town administrator and a militia leader were assassinated on November 27, according to families of the detainees. Due to the sudden and indiscriminate arrests, about 30 innocent villagers have been on the run. It is unknown which groups or organizations killed militia leader U Phone Myint Kyaw. Still, these irresponsible activities have already negatively affected the local villagers.
Justice remains derailed and denied with the Chief Minister of Mon State, Dr. Aye Zan, facing charges by the junta who has already been sentenced to 25 years in prison for 11 cases and detained in Kyaikmayaw Prison, Mon State.
Comments