Weekly Overview: Human Rights Situation in Mon State, Karen State, and Tanintharyi Region
First Week of September 2022
HURFOM: A weekly update by the Human Rights Foundation of Monland (HURFOM) on the situation on the ground. Summary data includes Mon State, Karen State and Tanintharyi region.
Analysis
As the end of August 2022 came to an end, the Human Rights Foundation of Monland (HURFOM) was alarmed by several new human rights trends in Southeastern Burma. Among them, there has been a notable increase in children being targeted by the military junta. They've been deprived of their basic needs including medical attention, food, education, and the right to live safely. As a result, the numbers of displaced children who are suffering from malnutrition are worrisome.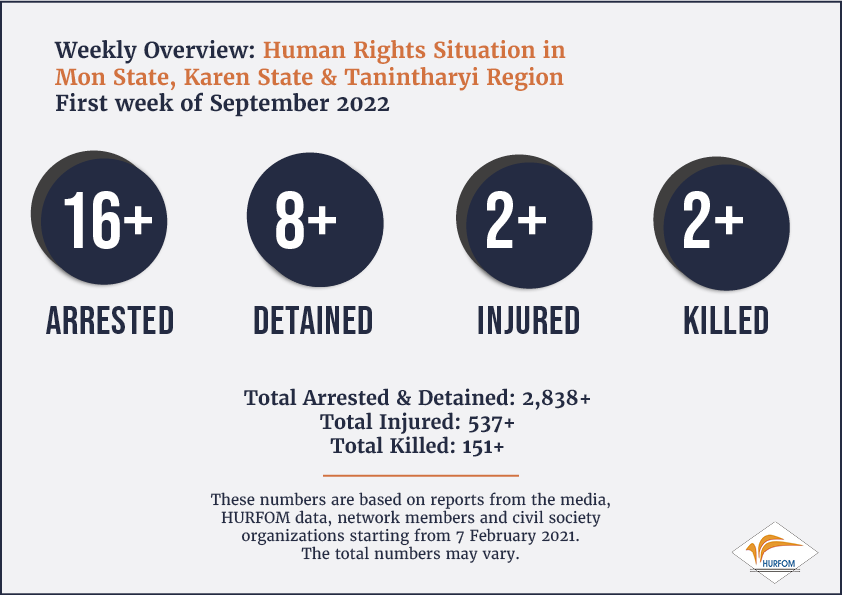 Inflation across all target areas has had a devastating toll on civilians who are unable to have their most basic needs met. This includes being unable to purchase life-saving medicine for those with serious diseases. The threat of COVID-19 also remains a concern on the ground across the country.
In addition, forced recruitment by the junta has forced more than sixty villagers to flee their homes in Yebyu, Dawei. They are unable to return as the junta's naval command seeks to expand their forces through advertising false promises of high pay and security. The military battalion conducting the forced recruitment is known as 'Maw-Ra-Waddy-Naval Command,' and operates under the management of Coastal Regiment Command in Ohn-Pin-Kwin, Yebyu, Dawei.
Over the last week, among the sixteen civilians unlawfully arrested, eight were released after paying a ransom to the Mawlamyine junta forces. For each person released, a bribe of one million Myanmar Kyat (approximately 472 USD) was paid. Both victims who were killed were from Tanintharyi region.
Young students, particularly men, continue to be unlawfully targeted by the military junta. Four young nursing students were arrested, and one of them was sent to a notorious camp known as the military intelligence detention center. They are still being investigated without warrants, evidence, or any just-cause. These arrests occurred on September 2nd, 2022.
A collaborative group of military intelligence agents and the General Administration Department raided a man's hostel in Painnae-Taw Ward, Dawei, at 10:30 pm. Ko Myat Waian Oo, Linn Htet Khaung, Naing Aung Win, and Ko ATin are studying nursing in Dawei. Some are originally from Kaw Thaung city, Tanintharyi. A witness said that these four young men were beaten and arrested by junta soldiers while the troops raided the hostels. "They came with no arrest warrants but complete lists of who they wanted and arrested four of these students." Another local civilian from Painnae Taw confirmed that in the last two days, junta forces have been checking the families' registration lists and guest checks in some wards in Dawei.

Meanwhile, students who are attempting to continue pursuing their studies at University have paused their education for safety and security reasons. Students from Mon State who already passed their matriculation exam with high marks fear attending universities outside the State due to unsettled politics and security concerns. Top universities including the University of Medicine, Economics, Computer Studies and the Education Degree College institute are located in Yangon, Mandalay and Magway. Because these institutions are located in cities that are very far from Mon State, parents worry.
The junta is paving pathways for destruction as the country's prospects for democracy slowly deteriorate. Their desperate quests for power were apparent even before the attempted coup on 1 February 2021, as they sought legitimacy through various diplomatic channels while the very institution of the Tatmadaw was becoming increasingly more unpopular. Their tirade of war crimes, as well as crimes against humanity and genocide, is further evidence of the great lengths that the military junta is willing to go to invoke cruel means of control onto the people of Burma.
Comments