Weekly Overview: Human Rights Situation in Mon State, Karen State, and Tanintharyi Region
Fourth Week of August, 2022
HURFOM: As the month of August comes to an end, the Human Rights Foundation of Monland (HURFOM), remains deeply troubled by the harsh reality's civilians are facing on the ground. The growing presence of the junta in local areas continues to contribute to high rates of forced displacement, injuries and deaths of local villagers including women and children. Many have been killed with baseless accusations and suspicions from the junta which have seen dozens arrested and murdered.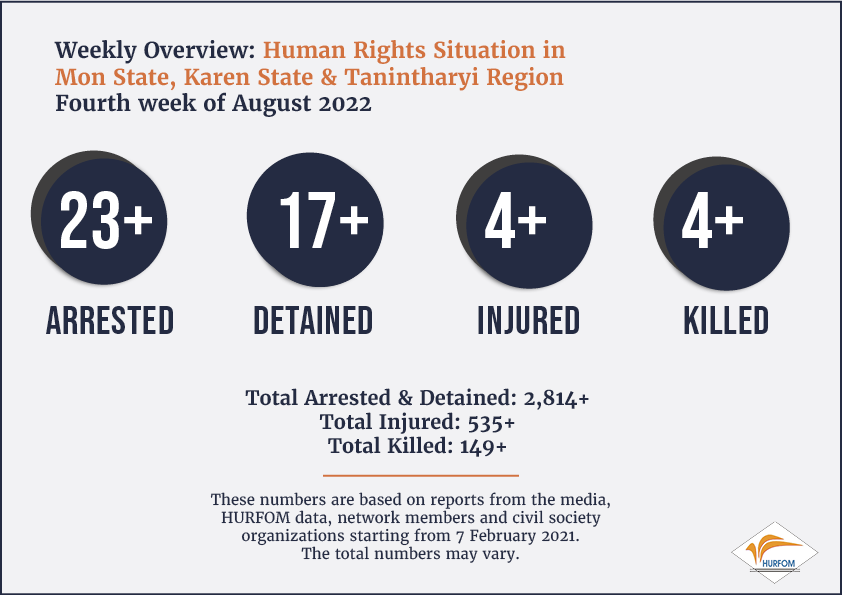 In Mon State, the junta has stepped up arrests of those suspected with links to the Spring Revolution, including social workers and businessmen from different parts of Mawlamyine over the last week. At least ten men from different backgrounds were abducted from August 22nd to date. The junta has intensified arrests of those they believe are associated with the current movement. However, those arbitrary arrests are unlawful because they have no evidence, said a local vendor. Those released were only freed after paying substantial bribes.
Residents in Thayet Chaung Township and southeastern regions of Dawei also claimed that the junta battalions disbursed Pyu Saw Htee members 30,000 kyats a day for burning houses and properties in the areas and committing crimes. A member of the Karen National Liberation Army shared his concerns: "These acts are dangerous. Their ideas are continuing to form the proxy armed forces and pro-militias by using local people. The Burmese Army never wants to see their name tarnished."
HURFOM also received new evidence that the junta battalions are recruiting young local drug addicts by providing money and drug access. They are dispatching armies to villages in the war-torn Dawei, Tanintharyi Region, where the armed resistance is strong. They are forcibly recruiting young residents into joining pro-junta militias, according to sources HURFOM spoke to. Military personnel, Khin Soe, age 40, originally from the SAC's LIB 273 based near Kan Bauk, Yebyu Township, Dawei, recruits local youths from the junta battalion.
"Troops from LIB #273 are targeting young people because they're unemployed, and addicted to drugs and alcohol. The Burmese Army is famous for forced recruitment. But I noticed that their tactics for new soldier recruitment were very subtle during these times."

Between the 20th and 23rd of August 20202, the Burmese Army allegedly told those willing to serve that they would be given 2.5 million kyats immediately and 80 thousand kyats per day. He also promised to pay 30,000 kyats for each patrol. "These kinds of promises also persist in the village of Kanbauk and nearby villages," said a source who remained anonymous.
In addition, HURFOM also documented that the junta and the military-backed General Administration Department have arrested at least a dozen and a half youth in Mon State, accusing them of being linked to local armed forces and the ethnic revolution organizations, according to sources close to the detainees. The arrests occurred between the 24th and 28th August 2022,. Their homes were also raided. All of them were sent to Kyaikmayaw Prison, where they are being denied their rights and being tortured.
Comments