Weekly Overview: Human Rights Situation in Mon State, Karen State, and Tanintharyi Region
Second Week of August, 2022
HURFOM: Throughout the second week of August, the Human Rights Foundation of Monland (HURFOM) reported on increasing attacks against human rights defenders and youth, young men in particular. The military junta has been stepping up their assaults on freedom fighters and those aligned with the pro-democracy movement as well as indiscriminately targeting civilians.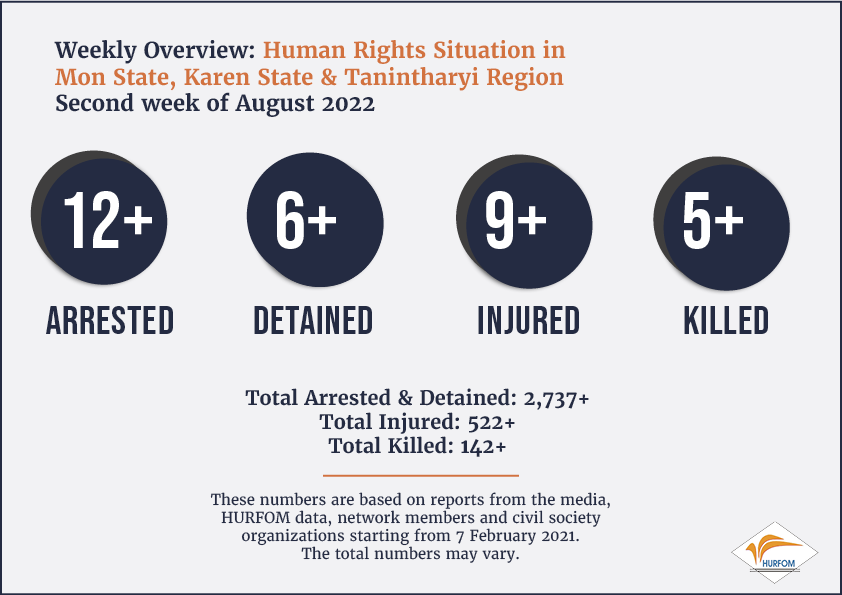 On 8 August at around 7:30 PM, military soldiers shot and arrested two young men riding a motorcycle in Aye Ayew Nyein Ward, Kawthaung Village, Dawei District. Due to the shooting, Ko Lwin Zaw Soe, age 24, fell off his motorcycle and died. The deceased was a resident of Kanethiri Village, Thayet Chaung Township, Dawei District, and worked in the fishing industry in Kawthaung Town. "The men were not aware of the order to not allow two males to ride the same motorcycles," said a co-worker of the victim.
"He bled to death because he did not receive medical treatment in time. Of course, we want justice for him now, but I don't think it can be achieved. Even those who demand justice are at risk of being targeted," another co-worker of the victim expressed.
Children have also been caught in the midst of the junta's merciless attacks which include fleeing conflict in their homes and villages and being denied life-saving support. The incursion of the junta forces and establishment of its bases in Yebyu Township, Dawei has led to many villagers fleeing their homes. Since July 30, 2022, the Burma Army has conducted military operations and established bases in villages in Yebyu Township.
Approximately 1,000 people from five different villages have fled from their homes. These military incursions can be linked to the deaths of at least two internally displaced persons. In the first week of August 2022, two IDPs could not access medical treatment.
The two victims were a 40-year-old man from A Ka Neat village and an 11-year-old child from Wa Zen Taw village. "The child frequently suffered from epilepsy but had been able to access regular medical treatments in a nearby home at a clinic. Since the family had to flee, it was impossible to maintain regular treatments," said a villager close to the family. On Aug 4, 2022, a 40 year old man who fled took shelter in a plantation. The individual had been seriously ill for two days."The child and the man died at Yebyu IDP camp.
In addition to mounting human rights violations perpetrated by the junta, since early August 2022, the inflation rate has risen dramatically, which has led to higher prices for essential commodities. Rice, cooking oil, chili and onions are three times their average price. "Prices are really high. A daily worker earning 5000 Kyat a day can't feed three of his family members. The income and outcome are imbalanced. People have to struggle just to buy food. I have to go to work on my bike rather than consider buying gasoline," said a daily worker.

There is also another gasoline shortage that has occurred, which is adding additional pain to all sectors. As of August 11, 2022, 16.6 grams of gold priced at 2.5 million Kyat while one US dollar is equivalent to 2,750 Kyat.
Amidst all the growing unrest and uncertainty, the military junta is committed to ensuring the next 'election' in Burma is neither free nor fair by already initiating plans to bar competing political parties. The junta-controlled Union Election Commission approved "Proportional Representation (PR) System." Critics have also pointed out that since this development, the military junta has been trying to change/manipulate the numbers of constituencies.
Comments