Weekly Overview: Human Rights Situation in Mon State, Karen State, and Tanintharyi Region
Third Week of July, 2022
HURFOM: A weekly update by the Human Rights Foundation of Monland (HURFOM) on the situation on the ground. Summary data includes Mon State, Karen State and Tanintharyi region.
Analysis
As the end of July nears, human rights violations in target areas of the Human Rights Foundation of Monland (HURFOM) continued to be scaled up. Homes have been deliberately scorched by the junta as arbitrary arrests and ongoing raids spark fear in local communities. The international community's slow will to act has led civilians to fear the worst is still yet to come. Without concrete action and a response that makes clear that the junta is not above the rule of law, the Burma Army will continue to commit crimes with impunity.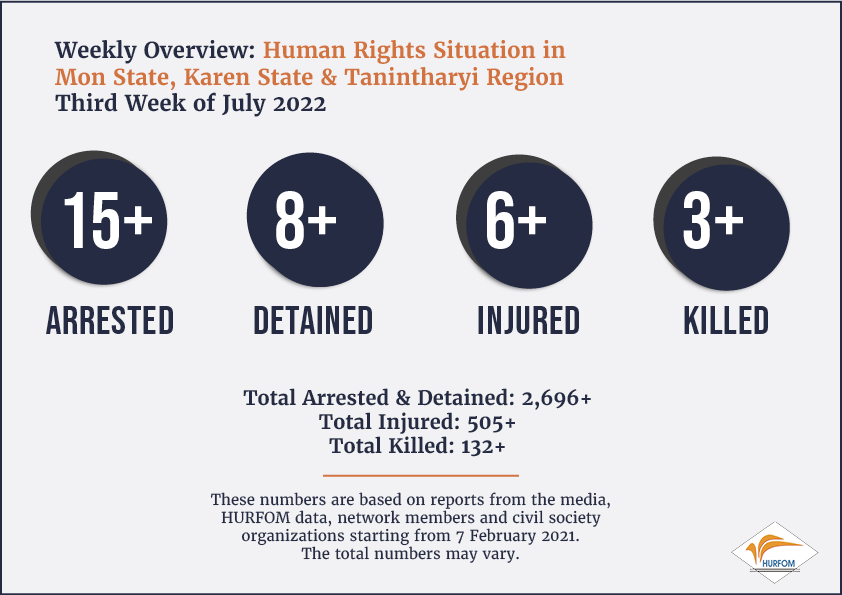 Junta forces looted and burned homes in Taung Pyouk village track, Dawei. At least ten civilian houses were burnt down between June 15 – 18, 2022, according to the local villagers: "The junta forces burnt down at least five houses only in Ah Lae Su village, which is part of the Taung Pyouk village track, located in Tha Yet Chaung Township," a local villager told the reporter. Before burning the houses, the soldiers removed all the valuable belongings from the homes, a local source said. Another recalled, "I heard gunshots. There were no armed clashes. It's just random shooting from one side. I moved my belongings with a truck to Thel Chaung Gyi village," said a 35-year-old villager from Ah Lae Su village. The military junta has bases in the Mya Nadi Mount in Taung Pyouk village track and they have been randomly shooting at nearby villages with heavy weapons every day, according to local sources.
Attacks by the junta have led to roughly 7,000 villagers fleeing their homes from Tha Yet Chaung Township. According to the Taung Pyuok IDP Assistance Organization, conflict affected people are in serious need of food and medicine.
Activists affiliated with the Spring Revolution and Civil Disobedience Movement (CDM) are being relentlessly targeted by the junta. On the night of 14 July, two tutors from Myeik University of Technology and Computer University were accused of being linked with the CDMs' assets and abducted by the junta security forces. They both are female tutors: Daw Ei Ei Phyo and Daw Thi Thi Swe. Some witnesses reported that during the forcible arrest, the soldiers physically assaulted them. On the evening of 15 July, a fourth year Computer University student, Ma Thuzar Win Htet, age 21, was also abducted by the Junta forces with no warrant from her residence. The witnesses reported that the junta troops raided Ma Thuzar's parents' home and were arbitrarily arrested. All arrested tutors and the female student were brought to unknown detention centers. This is a developing case.
Since the military coup, women and children have faced mourning threats to their safety by soldiers, but also within their own communities. Organizations providing legal support to women and children have reported an increase in domestic assaults and rape – particularly of children. One organization said they have twenty case files open regarding rape involving children, and 10 cases of domestic assault. According to those working to assist victims, the actual number of cases is expected to be higher than what is reported, as many cases are not reported. When victims have reported the incidents, authorities attempt to settle the case with monetary compensation. Most rape victims are between the ages of 12-14 and were abused by relatives or family acquaintances. "Now, no one has an easy livelihood. The parents have to leave their children at their neighbors' or relatives' houses and go to work. So, the children are unprotected," said a woman HURFOM spoke to.

Indiscriminate firing is also posing a serious threat to civilian safety. On July 19, early morning, junta battalion LIB No. 285 fired with artillery into the Pain-Nae-Taung village, Palaw township, Myeik, Tanintharyi. According to villagers, these attacks killed a 20-year-old man, two injured, and destroyed more than ten homes.
The attacks by the junta are unrelenting. HURFOM echoes our calls for action that meets the urgency which the situation on the ground in Burma demands.
Comments