Weekly Update in HURFOM Targeted Areas [Week Four: April 2022]
HURFOM: A weekly update by the Human Rights Foundation of Monland (HURFOM) on the situation on the ground. Summary data includes Mon State, Karen State and Tanintharyi region. Between 900 and 1200 #IDPs were forced to flee their homes across all target areas in the last week as junta violence wreaked terror.
Full Analysis: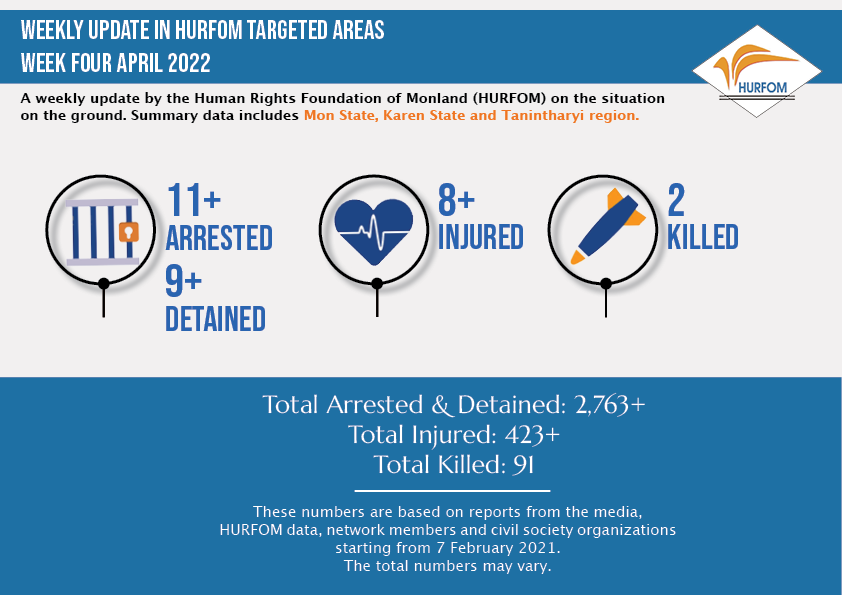 The worsening military offensives in HURFOM target areas claimed more lives over the last week. On April 22, at 7:30PM, an innocent villager, Ko Sai Maung was shot dead by junta soldiers in a military truck. His body was taken away by the junta soldiers, according to local witnesses. He was murdered in Yan Taung village, Thayet Chaung Township. One truck stopped and parked at the Yan Taung village monastery. The other two military trucks went outside the village and parked outside. They shot and killed Sai Maung and then put his body on the truck, recalled a village witness to HURFOM. A Karen fieldworker commenting on the situation noted that the junta's continued and illegal use of the '4 cuts' strategy continues to isolate, target and terrorize innocent civilians: "They must end these systematic attacks on our people."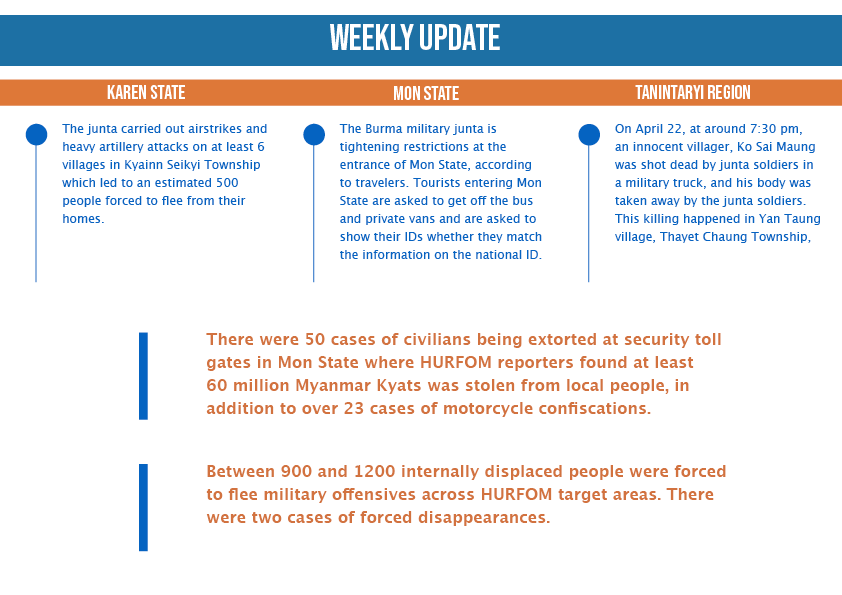 Military violence also continued to displace innocent villagers. Across HURFOM target areas, Indiscriminate shelling by the junta forces Artillery Battalion No.318 led more than 1,300 villagers to flee their homes in Kyainn Seikyi Township, Karen State, as reported by the network reporters on the evening of 24 April. "About 1300 local inhabitants from 5 villages became war refugees and fled the fighting as junta forces opened fire on them," said a 45-year-old Karen villager speaking to HURFOM. The 318th Artillery Battalion based in Mudon Township, attacked the area on April 23 at 10PM. Five villages including Tagondai, Pu Lein, Khalae, Ywala and Nan Theik Tun villages faced ground attacks. The houses, the plantations, and public buildings have been damaged. Witnesses recalled that no one is left in the area.
On 23 April 2022, HURFOM penned an editorial in the regional publication, The Diplomat, in which it was declared that the rapidly deteriorating human rights situation requires urgent and immediate attention. The international community cannot and must not wait any longer to act on the atrocities happening in Burma.
Comments