An armed group led by Nai Chan's Ramanya Army extorting villagers in Southern Ye
HURFOM: An armed group led by an individual known as Nai Chan, and the  "Ramanya Army" is active in Southern Ye Township, of Mon State.  This group has been extorting money from villagers in a number of townships including Southern Ye Township, Mon State and Yebyu Township located in the  Tenasserim Division.
On April 7, the armed group sent letters to the Ham Gam village Administrator and to the Kaw Hline Abbot in Southern Ye Township demanding millions of Kyat. The group stated the money must be paid within seven days. Contact details for the leader and the deputy leader were included in the letters.
Then, on April 18,"just a few days after Songkran, (the armed group) sent letters to the Abbots of Ah Baw in Ye and Pauk Pin Kwin in Yebyu and demanded money," said a local source.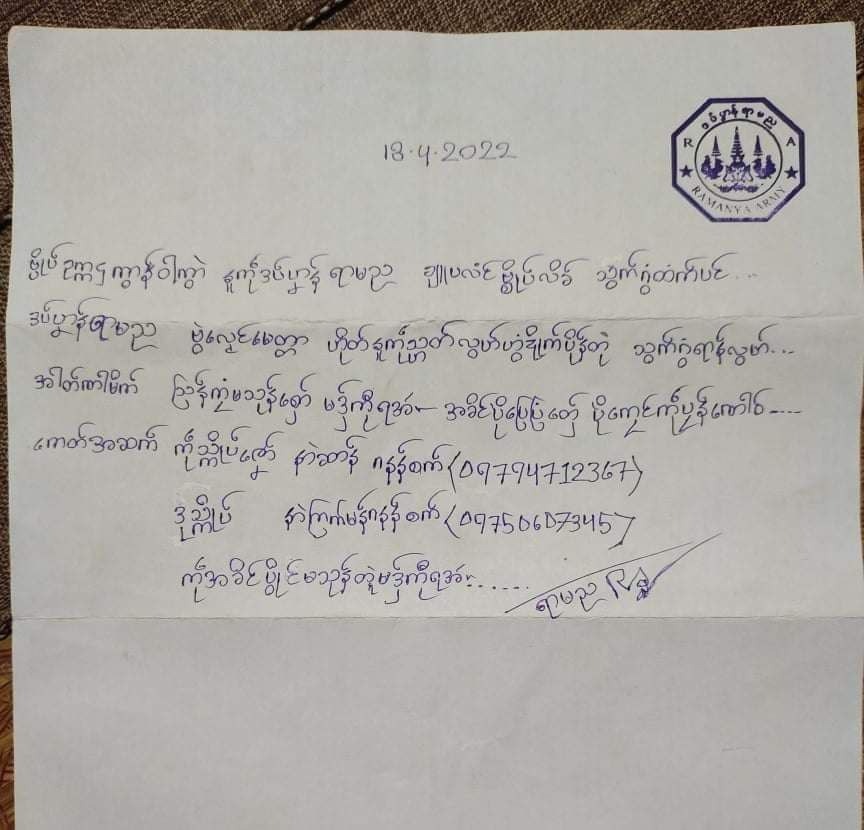 The armed group has demanded 50 millions Kyat from Ham Gam, 20 million Kyat from Kaw Hline, 40 million Kyat from Ah Baw of Southern Ye Township and 15 million Kyat from Pauk Pin Kwin of Yebyu Township.
"I think they sent the letter to the Administrator (of Pauk Pin Kwin). The villagers are worried about that. Pauk Pin Kwin was a peaceful place before but the situation has changed now. Nai Chan's group is active near the village," said a local source.
The extortion efforts have left villagers frightened. Now they do not go to their plantations or go outside at night.
Comments