Weekly Update in HURFOM Targeted Areas
(First week of November 2021)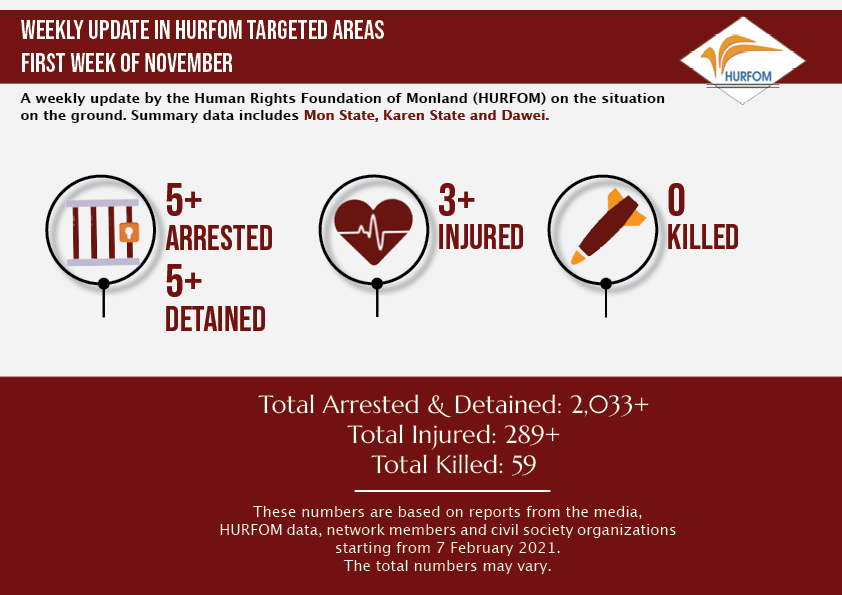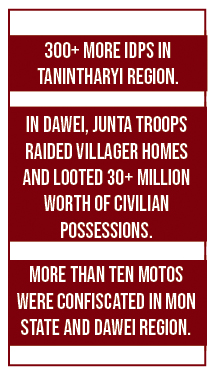 A combination of fear mongering tactics perpetrated by the junta including but not limited to extortion, threats and verbal and physical assaults have sought to advance a military agenda of state-sponsored coercion. However, the people of Burma remain adamant to not bend to the authoritarian rule being forced upon them. Overwhelmingly, citizens have rejected the military's power-grab and have continued to support anti-coup activities. 

HURFOM released a briefing paper called Under Attack, which highlighted the increase in human rights violations committed by the military junta in Mon State, Karen State and Dawei region. The assaults on fundamental freedoms are ongoing. The junta security troops arrested two local civilians without having no arrest warrants after raiding a house in Tha-Baw-Seik-Pyin Village, Long Lon Township, Dawei Region. The two men they arrested were not the ones they wanted, but they were taken away as hostages. When they left the village, they forcibly took three Honda motorcycles, a tank of oil and also robbed three million Kyats from the villagers. 

Alongside, the abductions are growing numbers of civilians fleeing their villages. According to HURFOM network members, approximately 300 more IDPs from four villages in eastern Dawei have fled their homes after the junta vowed retribution against the civilian armed resistance, and those involved in the guerrilla attacks that killed and injured security troops in the last two weeks.
Local villagers said they were worried about being killed, arrested, abducted and/or used as human shields by the junta, or be subjected to sexual harassment. Many have fled in fear.

Leaders on the global stage have a moral responsibility to meet the moment of crisis that civilians have been confronted with
Comments