Weekly Update in HURFOM Targeted Areas (Second Week of October)
A weekly update by the Human Rights Foundation of Monland (HURFOM) on the situation on the ground. Summary data includes Mon State, Karen State, and Dawei District.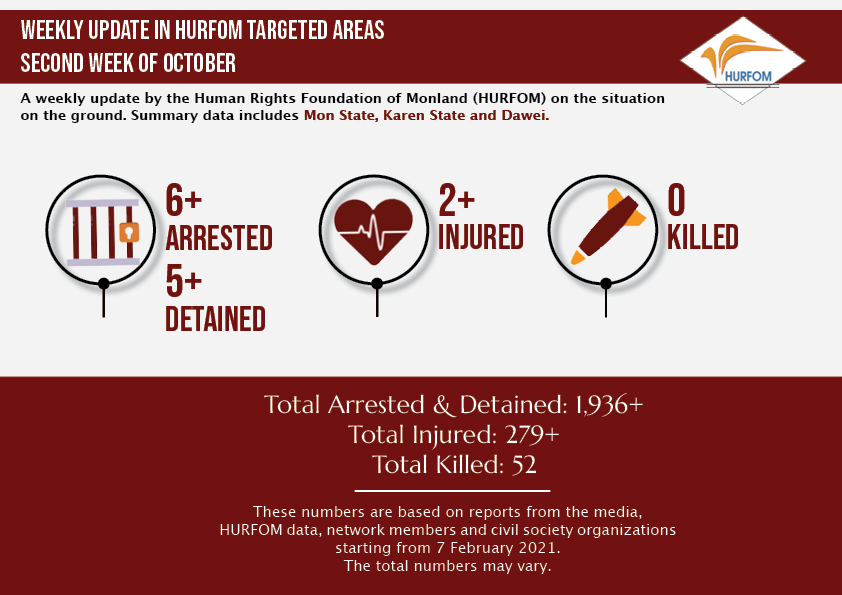 Internal displacement, which has been fuelled by the junta, has increased in HURFOM target areas. A teenage student, Min Htet Kyaw, 16, a resident of Mudon, Mon State was reportedly abducted from his home by junta security troops at 10 pm on October 13, 2021. The reason for the arrest remains unknown, according to his friend from Mudon.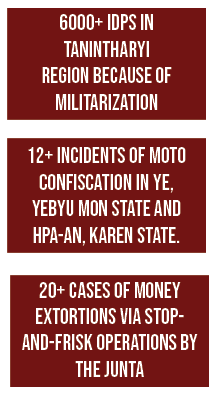 Another young student, Hnin Pwint Madee, 17, was also abducted by the junta around 10 pm on October 13 from her parent's house after the troops checked her mobile phone. Madee is also a resident of Mudon, Mon, State. Of those arrested, two were from Mudon, three from Hpa-An and one from Southern Ye. Those injured were from state-sponsored torture.
Most of the Mae-Kae villagers have been fleeing their homes since September 29th. More so since the neighbouring village, Kywe-Chan, was invaded and looted by the junta's Light Infantry Battalions 406, 407. As of October 13, 2021, over 6000 local residents have been forced to flee. Amid ongoing human rights violations, the Association of Southeast Asian Nations (ASEAN) leaders held a summit on 15 October to discuss the junta's attendance at an upcoming summit at the end of the month. HURFOM joined human rights organizations in urging ASEAN to not extend an invitation to the murderous regime, as it is clear that the military has displayed a flagrant lack of respect for ASEAN. It was decided at the meeting that the junta would not be invited, in what was a victory for the people.
As the violence worsens amid the eight month of the coup, the international community still has pathways to hold the junta accountable available. Silence on the matters inside the country sets an unfortunate precedent which emboldens the junta to commit human rights violations with impunity.
Comments