Weekly update on situation in Karen, Mon & Dawei since the coup: (Third Week of September 2021)
HURFOM:
Tensions in HURFOM target areas are growing. The escalation of violence by the junta, combined with their exertion of control by intimidating and threatening civilians has isolated communities. The threats to everyday safety are growing exponentially. Young people in particular are at risk.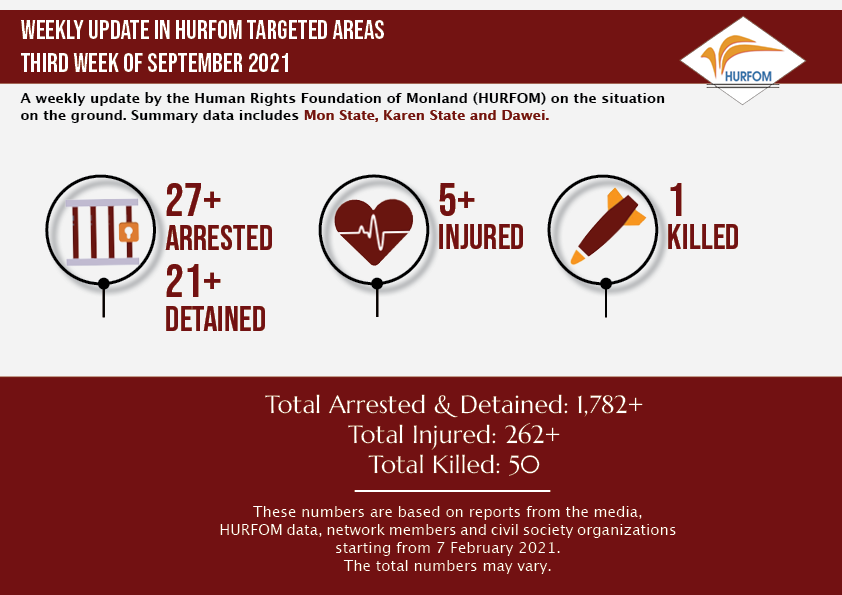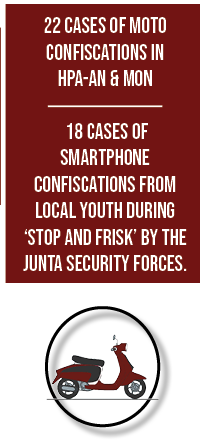 Maung Yin Min Khant, a 16-year-old boy living in Kadat Nge Htein Village in Loung lone Township in Tanintharyi Region, was shot to death by the junta security forces, who set up a camp at the village monastery, on the evening of September 17th. The targeting has forced many into hiding, but even then, their safety cannot be guaranteed. Two young civilians were abducted by junta Security Forces from their hiding places in Hpa-an this week. According to a witness, the two were affiliated with the Civil Disobedience Movement from a government department and had been in hiding since May. The soldiers and police brought them from Ward #6 to Taung Kalay prison. On September 17 at 1 PM, Ma Cho Cho Phyo, a 3rd-year student from Dawei University was arrested according to Dawei Students Union. The junta and security forces came to her house in Akani Village, Yebyu Township to arrest her brother. But he already escaped. The troops abducted her instead. Six students have been abducted, including a tutor from Dawei University, within this week, according to Dawei University students' Union. The junta also abducted five youth from Shwe Myaing Thiri ward, Mawlamyine, Mon State on September 18th. The reason for the arrest remains unknown.
The recent armed conflicts between the Junta Forces and PDF created approximately 1,200 IDPs in Tanintharyi Region. Residents have been forced to flee from Kyae-Zu-Daw, Sar-Khae, and Pane-Nae-Taung villages since last month. According to a source who works for a food aid group in Dawei Region, most of them are still terrified to return home: "In some areas, like eastern Palaw Township, people have started to face starvation," said a source. "We heard that some aid groups are trying to reach out to us to help, but the Burma Tatmadaw battalions are blocking them," a Karen National Union member said.
Locals fear returning home because the tactics by the Burmese Army, which include arresting and conscripting villagers are prevalent as military tensions increase in Mon State. HURFOM has documented dozens of cases of civilians being arbitrarily detained and taken to unknown locations. According to residents, the military has occupied more and more troops in most wards and quarters in Hpa-an, Karen State as more troops are deployed with armed ex-military servants and militia forces in nearly every quarter in town, one local source said: "The Karen State Junta Administrators said they want to provide 'Security' for residents. However, we feel more unsafe living with them. the more they are deploying in the areas, the more chance of human rights abuses will occur," A 38-year-old ethnic Karen from Hpa-an expressed.
Comments