Gunshot near school frightens parents
HURFOM: In the evening of June 14, 2021, two individuals were helping students cross the road in front of the No. #2 Basic Education Middle School in Aung Mitta Ward, Ye, Mon State, when gunfire was heard. Moments later one person lay dead on the road.
The deceased person was a prominent person in the ward and also a former soldier.
A resident from Aung Mitta Ward, described the incident, "When coming to pick up his daughter, he was helping a student cross the road. He was shot in his temple and passed away. Another person helping the students was the Ward Administrator and he was injured in his arm."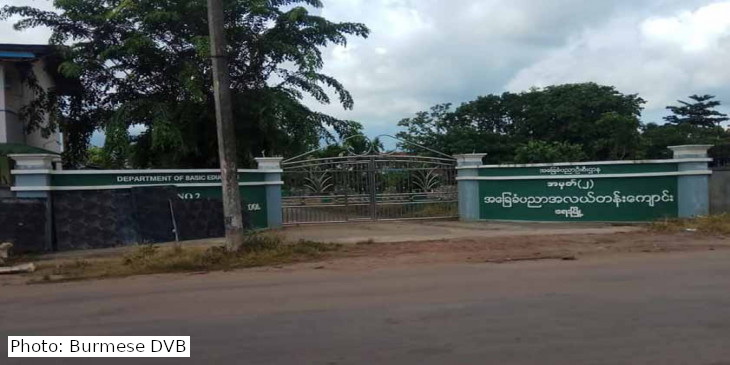 Gunfire and explosions in communities have occurred regularly since the February 1st coup.
In the first week of June, there was an explosion at the General Administration Office of Aung Mitta Ward and in the third week of May a bomb was thrown at the No. #2 Basic Education Middle School.
"At the beginning of the school year, a bomb was thrown at the No. #2 Basic Education Middle School. But the bomb didn't explode. After that the parents were afraid and didn't send their children to school. The school had to be closed for four or five days (including weekend days)," said one parent.
Some parents withdrew their children from school.
"Parents are afraid to send their children to school due to the current condition. Shootings have occured in the school area and it isn't the first time. So I decided not to send my daughter to school this academic year," said another parent.
Since March 15, the security forces of the military junta have been based in more than 60 schools and universities across Burma. Bomb explosions and gun attacks are now taking place more frequently because security forces are based at schools.
UNICEF has stated that placing security forces in educational buildings is a violation of children's rights and seriously impacts any learning environment.
"Today (the day after the gunshot), half of the students haven't come to school. The upper grade students still went to school while nearly all of the lower grade students missed their classes. The police forces have guarded the school at the moment," said a Ye residen
Comments