Weekly Update In HURFOM Targeted Areas (7-13 June 2021)
HURFOM, Mawlamyine: In HURFOM target areas, the human rights situation remains of great concern. Fieldworkers continue to document as best as they can, given the extreme risks and limitations faced. Confiscation and destruction of properties is ongoing. This week, in addition to monumental, historical statues being destroyed in Karen State, there were 15 mobile phones and five motorcycles also taken by the junta.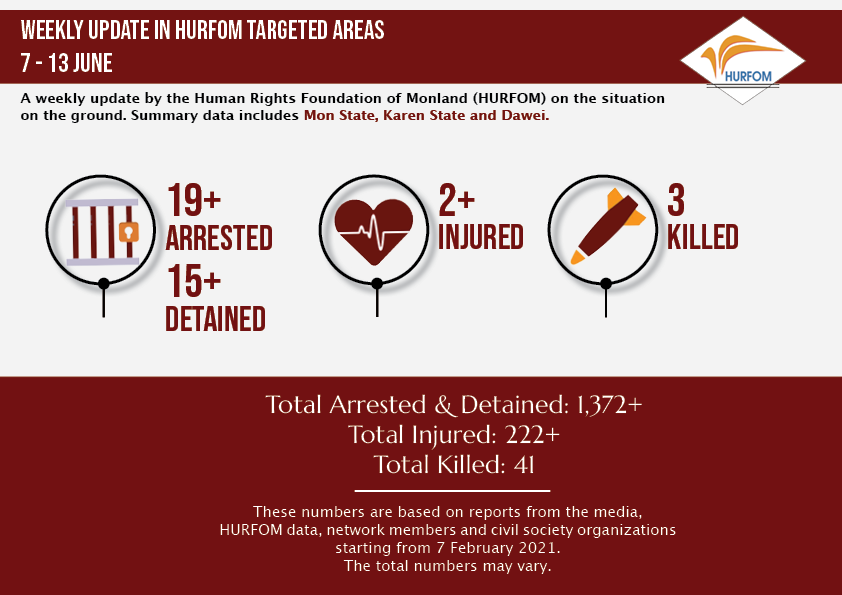 Of those arrested in our weekly tally, two were defence lawyers of former Karen State Chief Minister in Hpa-An and of a 14 year old boy and 8 high school students from Mawlamyine. Those killed include a woman candidate from the Mon Unity Party and 2 Long Lone villagers.
According to HURFOM data, this week there was a considerable amount of sentencing of young protesters and activists. The majority were charged with Section 505 (c) of the Penal Code. Meanwhile, other young activists were arrested by the junta and their families denied information about their whereabouts.
Bombings were the site of seven bomb denotations with attacks allegedly targeting schools and government administrative departments. Civilians have reason to be fearful of the bombings and ongoing junta violence.
Comments