Monthly overview of human rights violations in HURFOM target areas, May 2021
HURFOM, Mawlamyine: In May, the oppression faced by the people in HURFOM target areas increased. The junta is continuing to instill fear in the people by arresting and abducting innocent civilians. Since the army overthrew the democratically elected party on 1 February, the armed forces have killed eight people in Mon State, including an 11-year-old. Over 200 people have been charged, and evidence is being fabricated to justify the regime's harsh crackdown. Children are no exception – they too are being targeted and becoming political prisoners. Subsequently, rural people are seeking more secure places, but there is nowhere safe to go under this illegitimate regime. HURFOM recorded seven cases of disappearances in Hpa-An, Karen State, since March 2021. Most are young people. Parents have expressed fears as they have lost contact with their children. HURFOM received three cases of seven missing young protestors from Paung, Myeik, and Hpa-an. Many young protestors, who were listed on 'police wanted lists', are in also in hiding.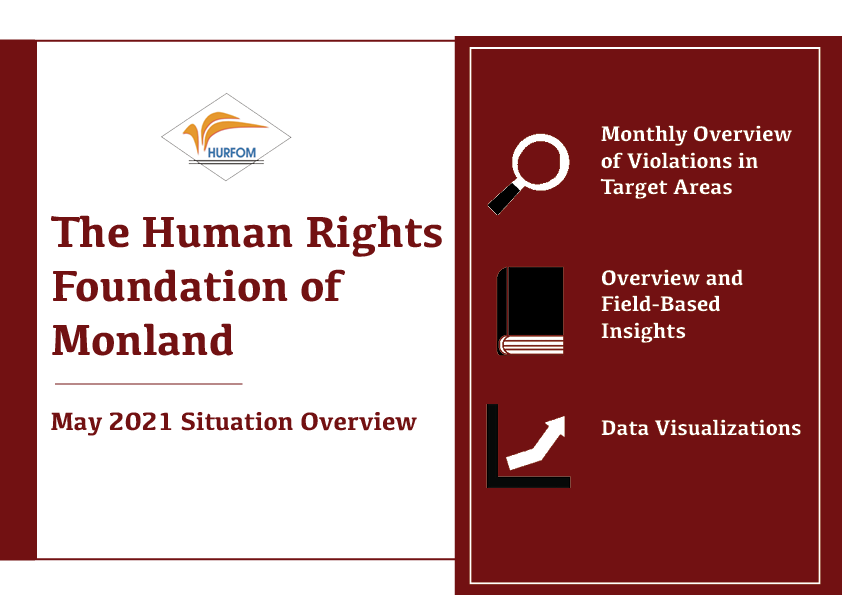 The junta's 'stop and frisk' policies are ongoing as they attempt to intimidate and extort possessions from civilians. Locals have said a 'check bags and back-up phones before leaving home'. Security forces are seeking any excuse to imprison civilians against the coup. Meanwhile, the dismissal of education staff is ongoing, with over 3,000 teachers being dismissed for their involvement or commitment to the Civil Disobedience Movement (CDM).
HURFOM emphasizes calls for a global arms embargo, targeted sanctions for international recognition of the National Unity Government of Myanmar.
HURFOM reiterates its calls for a global arms embargo and for full international recognition of the National Unity Government. The full data set and analysis:

https://rehmonnya.org/reports/may2021.pdf
Comments