A quarter of a million people flee their homes due to brutal military crackdown
HURFOM: An alarming number of innocent civilians are fleeing their homes as the military and police forces kill and arrest peaceful protesters throughout Burma. 
250,000 have now fled their homes. The United Nations Special Rapporteur on the situation of human rights in Burma said he was shocked by this huge number.
"The world must act immediately to address this humanitarian catastrophe," said UN Special Rapporteur Tom Andrews.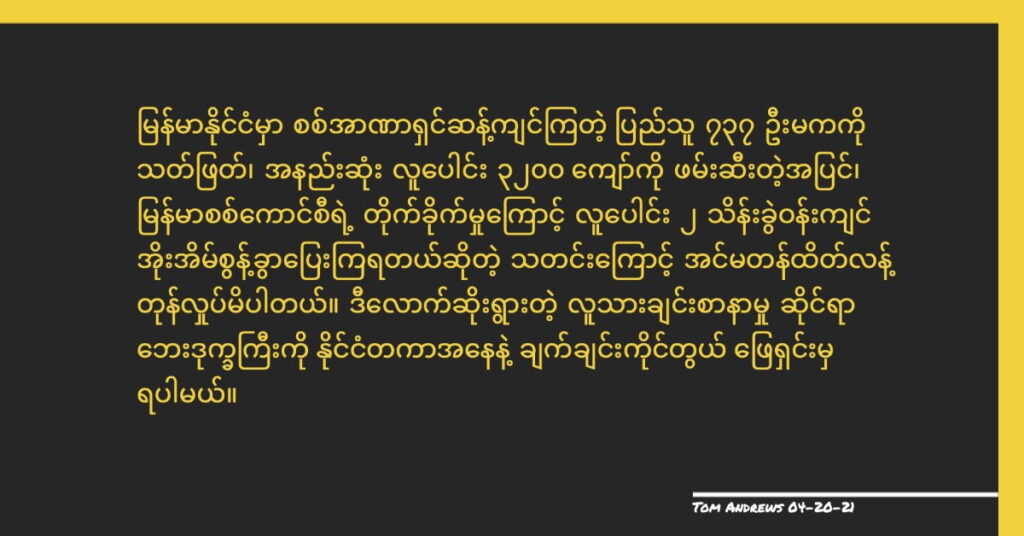 Many have fled to neighboring countries, particularly Thailand. Those in central Burma and not close to any bordering country have left their devastated villages and fled to forests and farms.
On April 20, 2021, 41 Karen domestic and international organizations released a statement urging the Thai government to give sanctuary to refugees fleeing Burma and to cease blocking humanitarian aid efforts.
According to an April 21 statement from the Assistance Association for Political Prisoners (AAPP)'s, 739 people have been killed and 3,331 people arrested, charged or sentenced. Another 1,059 have been charged with a warrant.
Comments