CRPH abolishes 2008 constitution and announces Federal Democracy Charter
HURFOM: On March 31, 2021, the Committee Representing Pyidaungsu Hluttaw (CRPH) announced the abolishment of the 2008 constitution that was written by the Burmese military.
The CRPH said the constitution was essentially dissolved by the February-1 coup. In its place, the CRPH announced their Declaration of Federal Democracy Charter.
The Charter has been widely discussed with inputs and approval from 2020 elected candidates, political parties, activists who are leading the CDM – Civil Disobedience Movement, members of the general strike forces, as well as women and youth leaders, representatives from community based civil society/community based organizations and ethnic armed organizations.
Part I of the newly created Federal Democracy Charter formally called the "Declaration of Federal Democracy Union 2021" was approved by the National Unity Consultative Council (NUCC) on March 27, 2021.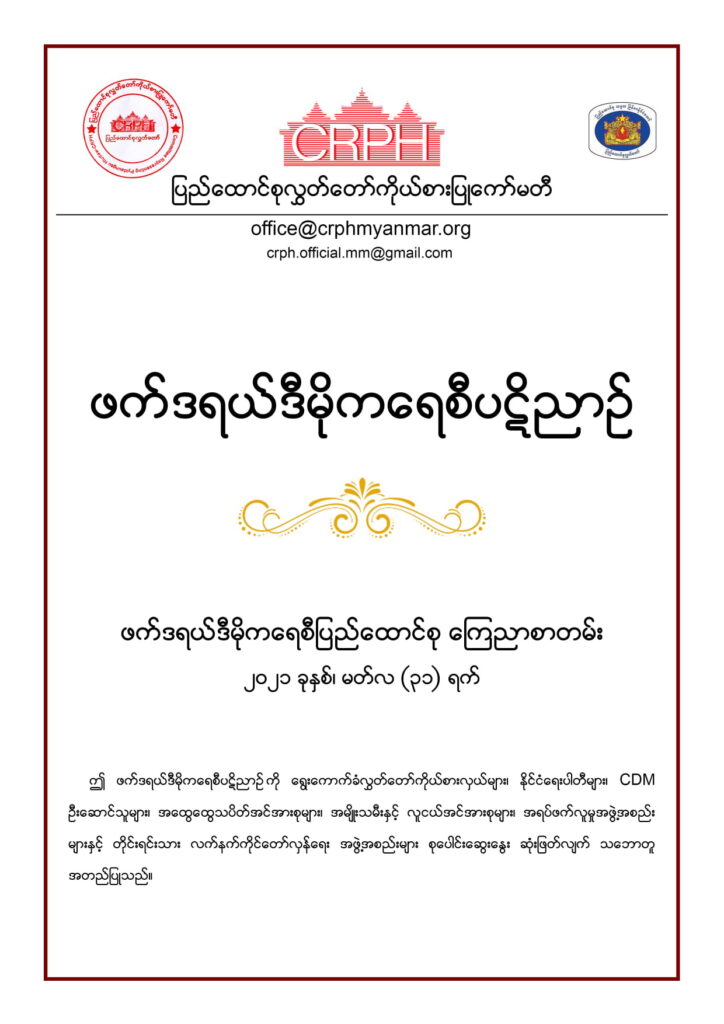 The Charter represents the collective intention to totally end all conflicts, to create equality and to assure self determination.
Proponents of the Charter initiative noted the ethnic leaders had compromised their autonomy when they signed the 1947 Panglong agreement to create a Union. Therefore, there must be a restoration of the Panglong agreement.
Comments