NLD sends 17 objection letters to UEC following 2020 election: One concerns election of MUP Deputy Speaker to Mon State Parliament
HURFOM: On December 29, 2020, the National League for Democracy (NLD) held a Central Executive Committee Meeting.  NLD Vice Chair Dr Zaw Myint Maung,  told the press that one of the outcomes of the meeting was that the party sent 17 objection letters to the Union Election Commission (UEC).
The NLD sent nine objections in Shan State, three in Karen, two in Arakan, one in Kachin, one in Mon and one in Naypyidaw.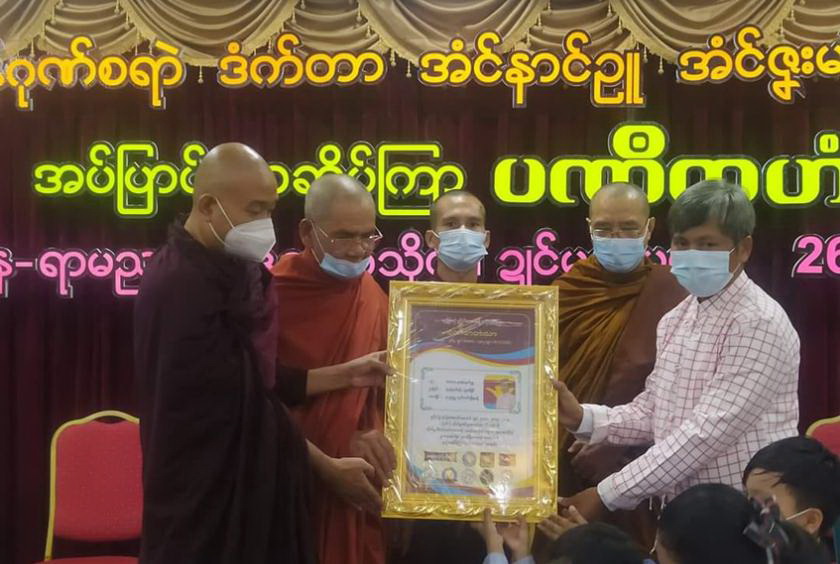 Dr Zaw Myint Maung said they sent the objections only after a tough discussion with their legal team.
Objections generally refer to concerns with alleged irregularities in the election process.
One of the objection letters concerned Dr. Aung Naing Oo of the Mon Unity Party, who is the incumbent Deputy Speaker in the Mon State parliament. Dr. Aung Naing Oo has won three consecutive elections in 2010, 2015 and 2020.
On December 26th, Dr Aung Naing Oo was honored with a prize called "Pa Ni Ta Hongsa = Nobel Sheldrake" from eight international and domestic Mon organizations.
"I've just heard about the objection but don't know about the details. That's why I don't want to give any comments. I even don't know the main causes of the objection. If the UEC contacts me, I'll share the information," said Dr Aung Naing Oo.
In 2020 general election, Dr Aung Naing Oo competed against U Min Kyaw Lwin of the NLD, former Minister for the Mon State Ministry of Municipal and Construction in the Constituency #1 in Chaung Zone Township.
"The UEC will contact me only after they accept the objection. After getting their reply, I'll follow their proceedings. Now, I don't know if the UEC accepts the objection or not," explained the Deputy Speaker.
Officials with the Mon State NLD have no knowledge about the nature of the objections.
"We don't know the details. The objections directly went to the headquarters. If you want to know the details, you should ask the officials from the particular township," said a member of NLD Mawlamyine Election Campaign Committee.
Comments