Ethnic Political Parties urge UEC to reconsider limited election cancellation decision
HURFOM: On October 16, 2020, the Union Election Commission (UEC) announced a list of constituencies in States and Divisions that will not be able to hold free and fair elections.
In response, an alliance of five ethnic political parties has urged the UEC to reconsider its decision.
The five political parties include, the Kachin State People's Party, the Kayah State Democratic Party, the Karen National Democratic Party, the Chin National League for Democracy and the Mon Unity Party.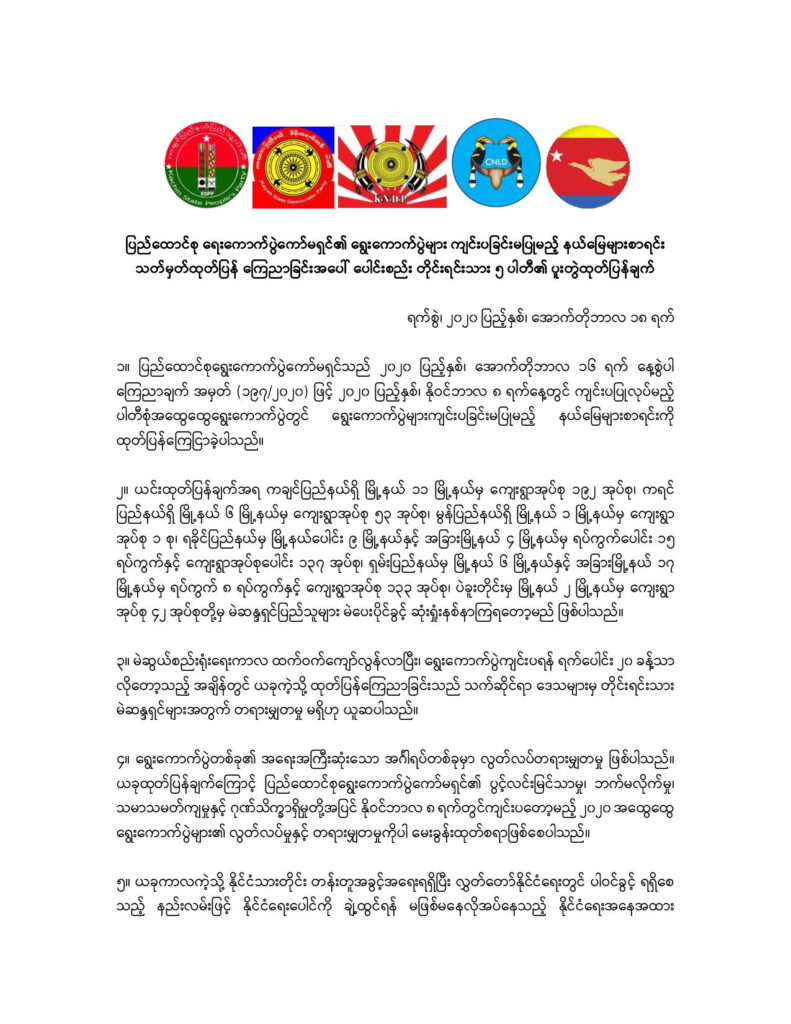 The ethnic parties have demanded the UEC reconsider its decision in order to restore voting rights and to bring justice and equality for all ethnic communities.
"The constituencies that the UEC canceled are those where the ethnic political parties surely will win the election. That's why we're doubtful about the decision of the UEC," said Nai Layi Tama, the Joint Secretary #2 of the Mon Unity Party.
The cancellation of elections in some constituencies takes place only 20 days before the general election.
This decision is not fair to the voters and the candidates who live in these constituencies, continued Nai Layi Tama.
According to the ethnic parties statement, the UEC decision challenges the notion of a free and fair November-8 election, and forces the voters and the political representatives to do politics outside of parliament.
"Before making the decision, the UEC must invite the political parties and listen to and negotiate with them. But they have released their statement without informing the political parties — so it's not fair," said Nai Layi Tama.
The UEC decision means people from 11 townships in Kachin State, six townships in Karen State, one village track in Mon State, nine townships, four wards and 137 village tracks in Arakan State, six townships and 133 village track in Shan State and 42 village tracks from two townships in Pegu Division will lose their voting rights.
Comments