Authorities attempt to restrict growing support to competing political and ethnic parties
HURFOM: With just a month left before the 2020 general election, certain authorities have been attempting to restrict expressions of support for competing political and ethnic parties from members of the public. Support for opposition parties has been on the rise,  and authorities are now issuing written or oral orders to curtail these activities.
In the central market of Ye City, Mon State, the shopkeepers had raised the flags of other political parties in order to show their support. Township Municipal Committee followed by releasing a statement to ban the action.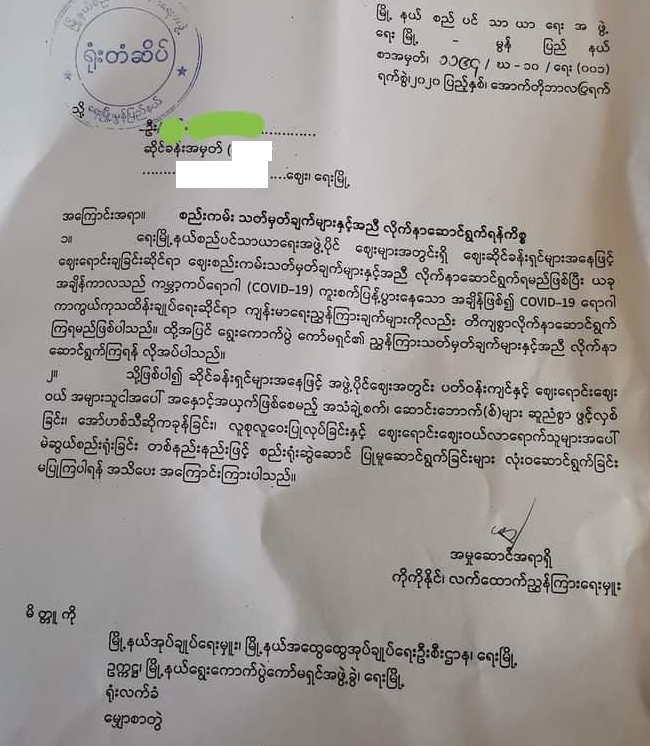 The October-6 statement said shopkeepers in the premises of Ye Township Municipal Committee were not allowed to promote electoral campaigns in order to grab the attention of consumers.
"That's a type of intimidation. We all have the right to [participate in] election campaigns. No one can stop that. I think now the political support to the ethnic parties has dramatically risen so that the authorities didn't like that. Anyhow, their action means intimidation," said a Ye resident.
A Facebook page from the "Mon State Theatrical Association" posted that their association does not allow its members to perform during COVID-19 period, and the Mon State Chief Minister verbally ordered, "that if any member does perform to show political support, he/she will face legal action."
The post appeared on the page at 9:10 pm on October 6 but was removed at 8 am on October 7.
One of the most popular Mon traditional dancers, Chan Nyi Nyi had publicly shown his support to election candidates with the Mon Unity Party (MUP) in Kaw Ka Rake Township, Karen State on October 5 and 6th. It was reported that the Mon State Theatrical Association issued a warning after the action.
Perhaps in defiance of the warning, on October 6, on the instruction of the Mon State Chief Minister Dr Aye Zan, the Mon State Minister of Burmese Ethnic Affairs, U Shwe Myint visited the office of the Mon State Theatrical Association and donated 100 bags of rice to its members.
Meanwhile the National League for Democracy's (NLD) Information Secretary, Monywa Aung Shin, recently said to Irrawaddy News Agency that it was impossible to take legal action against those who showed their support to NLD (even if they breached COVID-19 rules and instructions.)
Comments