YOU CANNOT IGNORE US: Victims of human rights violations in Burma from 1970 – 2017 outline their desires for justice
Yangon: Victims of human rights violations desire government reparations and deserve to see justice for what they have suffered, said the Reparations Working Group initiate by the Network for Human Rights Documentation Burma (ND-Burma) in a new report released today. The report, which is the first ever needs assessment of victims of human rights violations in Burma of its kind, offers preliminary recommendations for action that must be taken for victims of human rights violations to restore and rebuild their lives, including justice and accountability for the abuses that they have suffered and guarantees of non-recurrence. [Download the Report]
"The Burmese government's attempt to ignore the past and build a new Burma has failed," said Han Gyi, Coordinator of ND-Burma. "The government's failure to acknowledge the country's decades' long history of human rights violations has led to ongoing abuses and a deterioration of the human rights situation across the country. This must come to an end," he continued.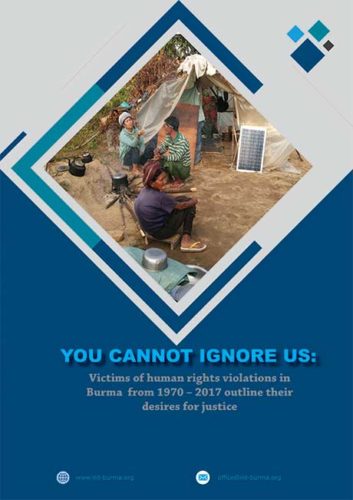 The new report, You cannot ignore us: Victims of human rights violations from 1970 – 2017 outline their desires for justice, draws from 111 separate cases based on interviews with 170 individuals in 11 states and regions. The cases present the testimonies of survivors from Burma's 70-year civil war, former political prisoners, and land grab victims. The majority of interviewees have experienced either the repression of the 1988 student-led protests against the military-run Burmese Socialist Programme Party, the military operation during the 1991 Bogalay crisis in Irrawaddy Region, and the ongoing armed conflict in northern Shan and Kachin states. Victims and their families have suffered a range of human rights violations, including arbitrary arrest, torture, killing, disappearance, rape, forced relocation, and arbitrary taxation.
The new report highlights the common impacts of human rights abuses, including economic hardship, health, and psychosocial issues and education. "The suffering and injustice that victims such as political prisoners experienced must be acknowledged by the Government," said Thwin Lin Aung, Director of Genuine People's Servants. "The Government must recognize and apologize for those violations, and accept that victims deserve reparations through a government-administered programme established through a Reparations Law," he continued.
As the Myanmar government prepares to meet ethnic armed organizations this month, the peace process has not brought with it a decline in conflict, as the decades-long armed conflict rages on in northern Burma. The ongoing armed conflict has been accompanied by systematic human rights violations including arbitrary arrest, torture, extrajudicial killing, forced labour, sexual violence, death by landmines, indiscriminate shelling, military targeting of civilian structures, and confiscation and destruction of property. In addition, fighting has started to re-ignite and state forces have once again been accused of violations.
"Although the much-touted peace process has been ongoing for many years now, the situation of armed conflict, particularly in northern Shan and Kachin States is getting worse, and there are more victims of human rights violations with each passing day," said Lway Poe of Ta'ang Women's Organization.
"Victims of human rights violations must receive justice for what they have suffered," said Seng Htoi of Kachin Women's Association – Thailand. "There must be a genuine building of trust towards peace, and at the same time, international accountability is also needed to end impunity of the Burmese military," she continued.
"Even though some parts of Burma such as Mon State have seen less armed conflict in recent years, there remain many victims of land grabs," said Nai Aue Mon of Human Rights Foundation of Monland. "Restitution of their housing land and property rights must be a priority of the Government," he continued.
The report urges the Government of Burma to make substantive measures to begin addressing justice and accountability for the victims of decades of human rights violations such as reparations and symbolic acceptance. Until there is a genuine process of achieving justice and accountability, the opening that Myanmar has experienced in recent years will remain unfinished and genuine democracy will not be able to take root.
Network for Human Rights Documentation Burma (ND-Burma) is a 13-member organization whose members represent a range of ethnic nationalities, women and the LGBTI community. ND-Burma has been documenting human rights abuses and fighting for justice for victims since 2004.
Comments