Low matriculation exam pass rates for MNEC students: Calls for more night study by students and improvements to MNEC administration and teacher training
HURFOM: In the 2019-2020 academic year, out of  the 3 Mon National High Schools, only 12 of 144 students passed their matriculation exam.
In the Andin Mon National High School, 51 students sat for their matriculation exam and only five passed. The successful students were the ones who regularly joined in the extra-class programs run at night.
A student who passed the 2019-2020 matriculation exam said, "I want to [recommend] that Mon national school students should join night study. We can get extra time of study during the night class. The teachers have drawn the time table and we have to study three subjects a night. If not, we don't know the correct way of studying. I'm a local student but I joined the night study. I came back home at 10:30 pm. The more we have contact with the teachers, the more we understand our lessons. I just advise [others] to go to night study."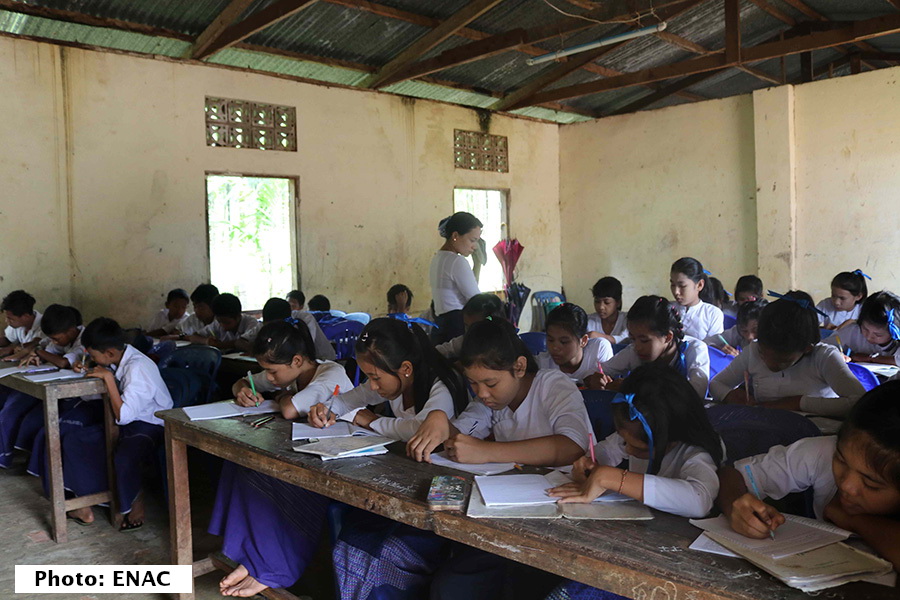 Students from other villages have to stay at the school hotel in order to join the night study, but local students go back home after school hours and often do not take extra classes.
"Students who come from away have to stay at the school hostel and study at night. Local students who go back home might not do any extra studying. Most of them spend time with their phones. So if possible, all students must join the night study classes. Now, this is optional so most of the students didn't join the night classes," said one teacher.
The pass rate of matriculation exams of the Mon national high schools has been declining for three consecutive years. In response the Mon National Education Committee (MNEC) decided to develop initiatives to improve the pass rate, reported Nai Min Aung Zay, the Director of the MNEC.
"The project design involves retired schoolteachers and officials from the Department of Education. We must be committed to our project," said Nai Min Aung Zay.
The Director explained that "two facts account for the pass rate declines – the administration, and the experience of the school teachers. Some teachers haven't graduated and they have to look for guide books to teach their students. So the result isn't good."
The MNEC has three Mon National High Schools, 18 Mon National Middle Schools and 112 Mon National Primary Schools. Together these schools educate about 12,000 students. In addition there are 92 schools which are run under both the MNEC and the Department of Basic Education of the Burmese government.
Comments