Parents worry about school openings amidst fears of COVID-19
HURFOM: Although prevention and control measures in response to  COVID-19 have not been lifted, the Ministry of Education has announced that school registration for basic education in high schools must be done between July 13th to the 17th, 2020.
Parents are expressing concerns about their children returning to school and possibly being infected by the disease.
"Schools are being reopened and there is the requirement for registration, but we're afraid of the disease. If we refuse to register then our children's education children will be impacted. So we went to register, but with fear," said a parent at No #2 Basic Education High School, Mudon.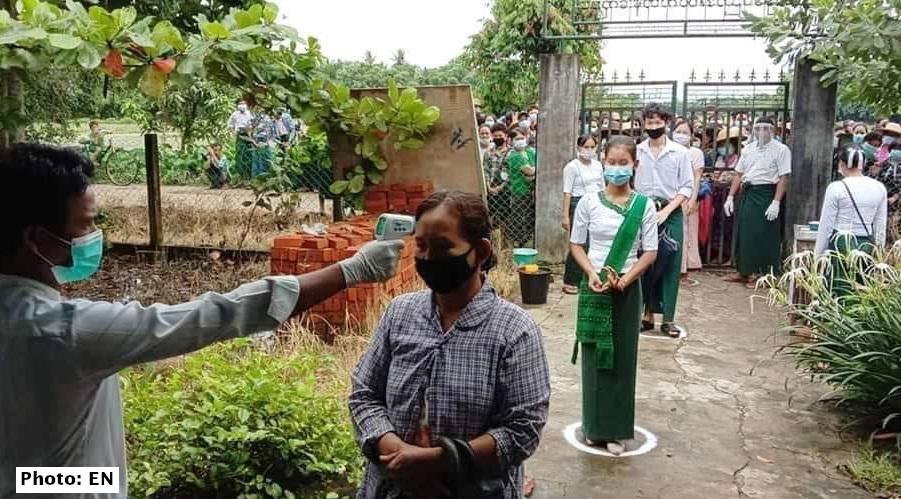 All high schools across Burma will be opened on July 21, 2020 and if there is no spread of the disease after two weeks, then middle and primary schools will open.
The Ministry of Education released a statement on June 23 that those who come to school must wear masks and face shields. Students and teachers must maintain a distance of 6 feet and food must be served at separated tables. Snack shops that do not follow COVID-19 rules and regulations are not allowed to be opened and posters related to COVID-19 education must be visible at all school premises.
"There is no local transmission in Mon State but we're worried that one of the students might get infected from another area. If the disease spreads during the school season, it's too dangerous for our children. We know that school teachers are well-prepared but we can't stop worrying as we're parents," said another parent from Mudon Township.
In order to control the spread of COVID-19, the National-Level Central Committee on Prevention, Control and Treatment of Coronavirus Disease 2019 (COVID-19) has extended all restrictions and prevention and control measures for COVID-19 up to July 31, 2020.
Mon State has more than 1,500 primary, middle and high schools that accommodates 400,000 students.
Comments