Activists call for a review of the Law Protecting the Privacy and Security of Citizens, citing articles directly violating freedom of expression
HURFOM: On March 8, 2017, the Union Parliament approved a law named, Protecting the Privacy and Security of Citizens 
On February 18, 2020, Athan, an organization that promotes freedom of expression, has called for the abolition of Article 8(F) of the law, and to amend other articles that gravely impact on freedom of expression.
Athan ("Voice" in Burmese) was founded on 15th January 2018 by young people who value and promote freedom of expression in Myanmar.
"Article 8(F) of the new law is related to defamation. [It states that] those who criticize political leaders, political parties, the army and the government can be charged with this article. Since the approval of this law, there has been an increase of violations of freedom of expression. That's why we are demanding this article be abolished," said U Ye Wai Phyo Aung, a Research Manager of Athan Organization.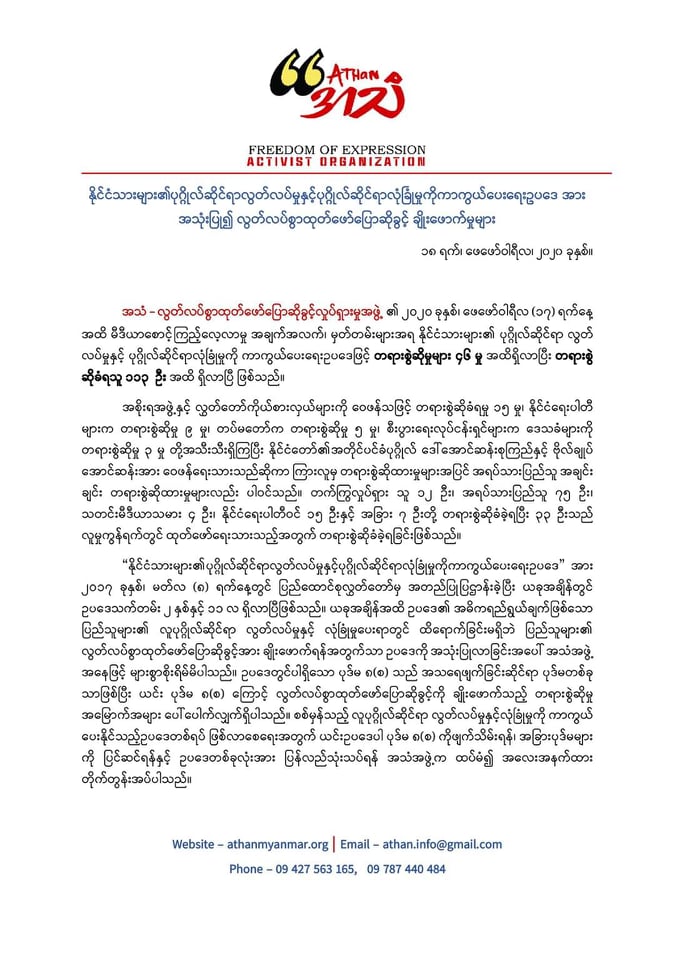 As of February 17, 2020, there have been 46 legal cases related to alleged violations of the Law Protecting the Privacy and Security of Citizens and 113 people faced charges under this law, according to Athan. According to U Ye Wai Phyo, there is a need to revisit the law in its entirety from a freedom of expression standpoint.
The breakdown of those charged include, 12 activists, 75 citizens, 4 reporters, 15 political party members and 7 other individuals and 33 of them were charged because of their posts on social media.
If the law is not amended, there will be an impact on the upcoming 2020 election as most of the violations relate to freedom of expression matters that surfaced during the 2015 election, pointed out U Ye Wai Phyo Aung.
"Most people (activists) who were arrested were also sued during the 2015 election. If this law [remains in its current form, during] the 2020 election it will be more dangerous. So this law must be abolished before the election," said U Ye Wai Phyo Aung.
On February 18, 2020, a judicial and legal affairs committee submitted a draft amendment to the law, to the Pyithu Hluttaw (House of Representatives).
However, U Ye Wai Phyo Aung noted, "The amendment excluded the voice of people. Most victims of this law were ordinary people. If they didn't listen to the people's voice and amend the law (themselves), the amendment is useless."
Athan believes any amendments to the law must include the voices of civic scholars, lawyers and civil society organizations.
Comments