Houses along the Ataran river suffer damage: Homeowners point the finger at Mawlamyine Cement's shipping vessels.
HURFOM: Mawlamyine Cement Limited (MCL) relies on the Ataran river to transport supplies for its cement plant located near Kaw Pa Naw and Kaw Don villages in Pyar Taung area, Kyaikmayaw Township, Mon State.
However homes located along the river have suffered damage due to MCL's transport vessels creating waves that hit the river bank.
Representatives from the company visited the homeowners and promised to fix the houses for them, however, according to one woman from Kwan Ngan village, that promise has gone unfulfilled.
"Our house was getting lower and lower gradually starting from November and now we could not stay anymore. The (window) glass in the upper story has cracked. The company came two times. They said they will fix it. However, we have been waiting for 3 months now. No news from them. the entire house will collapse while we wait for them. We dare not stay inside the house anymore. We need to fix it with our own money."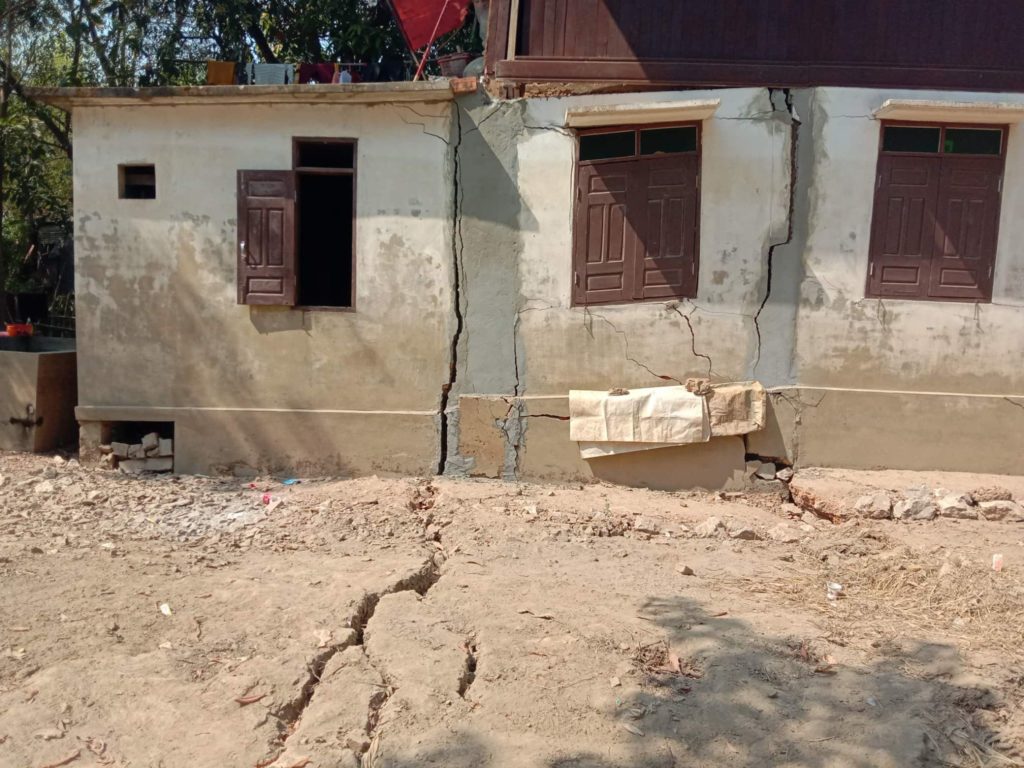 Many local people believe their property damage has been caused by coal vessels that create waves that shift the shoreline causing cracks and structural damage to homes.
"I have been living here for over 40 years. Never witnessed this kind of crack before. It is getting worse in the last 3 years. I think it is worse every year. We would like to request the government to come and check the situation. We don't have any other place to relocate," said a woman from Kwan Ngan village.
Although the company promised they will submit this case to the upper officials, there is still no action from them.
"There was a loud sound (sign of collapsing) while we were eating. We had to run outside. If it collapsed on me, I would die and if it was on children, they would die. No one knows when it will collapse. Our house is made of concrete. We feel unsafe staying at home. We feel afraid while sleeping," said another local woman, whose house has been damaged.
Kwan Ngan villagers homes have the most damage amongst other villages located along the Ataran river. There are 466 houses and 44 houses have been seriously damaged while others are showing signs of cracks, according to Village Administrator.
An appeal letter was submitted to Kyaikmayaw Township administration office in the last week of December 2019. However, there has been no action from the company to date, according to the Village Administrator.
Human Rights Foundation of Monland (HURFOM) attempted to contact the Kyaikmayaw Township Hluttaw representative Daw Khine Myo Myint regarding the situation, but she did not answer the call.
Comments