Locals worried plans to build a coal power plant may impact Land Use Rights
HURFOM: The military era of Myanmar's history and current plans to build a coal-fired plant in Ye Township have come together to create confusion about land rights.
During the years when the military controlled the Myanmar government the Light Infantry Battalion LIB #343 and the Artillery Regiment #316 confiscated 453.12 acres of farmland along side Ni Ga Rote river of the Andin village, in Ye Township. This land was not used by the military and local villagers were able to later get access to the land by applying for a Land Use Certificate (LUC).
Farmers are able to have land tenure rights for cultivation purposes by applying for a Land Use Certificate. A Land Use Certificate (LUC) also known as Form 7 allows the holder of the LUC or Form 7 to sell, mortgage or inherit land rights, according to a 2016 report on the 2012 Land Law Rights of Myanmar, published by GRET an international NGO and LIFT a multi-donor fund that has been working in Myanmar since 2009.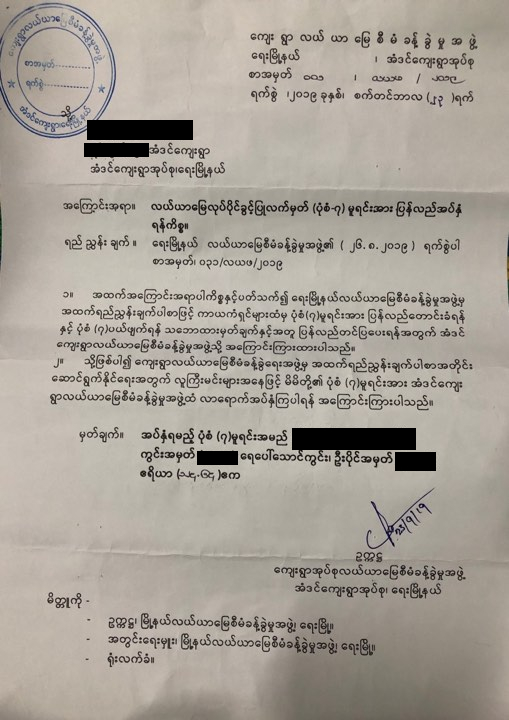 Confusion around the true ownership of some lands has surfaced recently in Ye Township. Nai …. a local … who helps Andin farmers told HURFOM "Andin land disputes [are] controversial. Some land owners [had] sold their lands to Toyo Thai Company or [to] a rich business person from Thanbyuzayat as the buyers offered high prices …. [However] the government was aware that Form No. 7 was not in the hands of the original owners. Authorities have tried to collect the original documents …those Form No. 7's," explained Nai —– .
According to local residents, Toyo Thai Company has been trying to construct a coal-fired power plant in the Andin village and some landowners had secretly sold their land to the company. But there are reports of dispute over the integrity of the sale of those lands.
In an attempt to clarify land ownership concerns, on September 23, 2019, the Ye Township Farmland Management Committee (FMC) instructed the Andin Village FMC to collect Land Use Certificates (LUC/Form No. 7) from 12 local farmers because local residents are worried that secret land sales may result in losing their farmlands due to the planned construction of a coal-fired power plant in the area.
The FMC issued a directive to collect the original Form No. 7 documents from the land owners.
"The situation of Andin farmland has become worrisome. The Ye Township authorities have demanded the (withdrawal of) Form No. 7 but the land owners who possess these documents [are refusing to comply with] the order. So the situation is getting complex. We don't know what will happen next," said Nai —-.
A senior monk, who is supportive of an anti-coal campaign added that, "Land issues in Andin [have] always [been] problematic. Some original land owners knew nothing (about the land [being] sold to the company). But there were land trades (between villagers and the company). Some original owners didn't sell their land (but those land were sold to the company). So, as the land dispute happen again, we are worried about the construction of coal-fired power plant."
Comments