Mon State salt farmers suffer huge losses for two consecutive years
HURFOM: Salt farmers from Pa Nga village, Thanbyuzayat Township, Mon State suffered another huge loss due to heavy rains and flooding that began in early August of this year. This is the second year of heavy losses. In 2018, Pa Nga salt farmers lost roughly 2.6 million peittha or 4,238,000 kilograms of salt due to heavy rains and flooding. Peittha is the Burmese unit to measure weight.
There are 3,000 acres of salt farms spread across Mon State and the Pa Nga operation has the largest production figures. Approximately 4.7 million peittha or 7,661,000 kilograms of salt was lost during the disastrous rains that fell on Thanbyuzayat Township.
According to a local salt farmer, private business owners lost 3.6 million peittha (5,868,000 kg) and 1.1 million peittha (1,793,000 kg) was owned by a government project.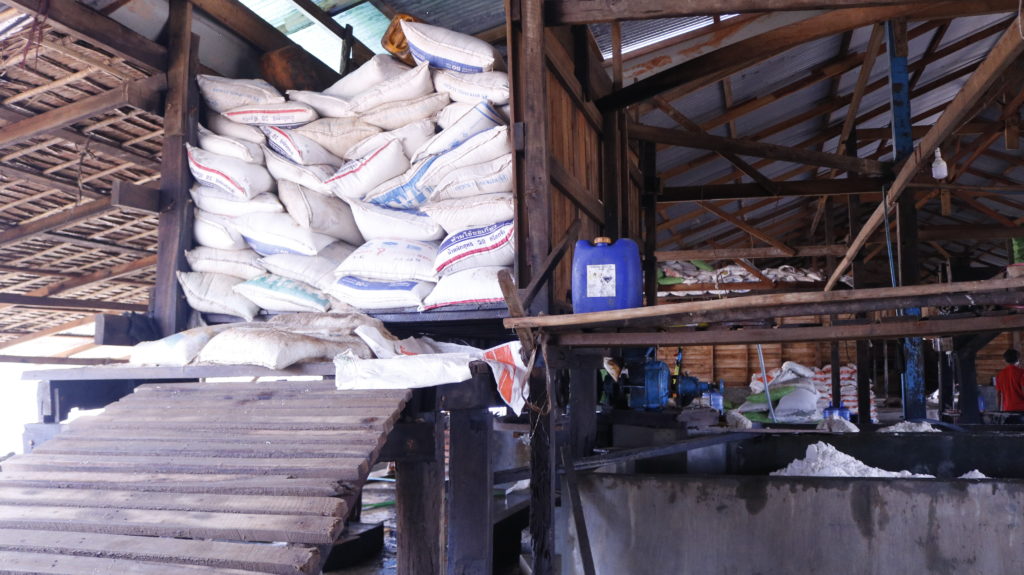 "We, the local salt farmers from Pa Nga, have suffered from flooding for two consecutive years and we've had a huge loss this year." The losses amount to more "more than 800 million Kyat," said Nai Hote, a Pa Nga salt farmer.
Most of the farms are located in lowland areas which are easily flooded during heavy rains. Salt kept in the warehouses had dissolved in the pooling rain water. Farmers could not move their salt to higher ground because transportation routes were also flooded and damaged.
"Every salt farmer is in trouble when there is heavy rain because the flood destroys the salt farm. We couldn't transport salt easily during the flood. That's why [we] face a huge loss. We've demanded the government construct a (special) route for salt transportation," continued Nai Hote.
Farmers get a higher price for salt in the rainy season, so they store salt during the summer and the winter. As a result larger volumes that are warehoused are subject to flooding. This business decision contributed to this year's losses. Due to high demand and low supply, the price of raw (low grade/ not refined yet) salt has risen from 160 kyat to 190-200 kyat per peittha (1 peittha = 1.63 kg).
Mon State holds second place for salt production. The Irrawaddy Division is the largest salt producer in the country.
Comments