Government appoints 340 ethnic language teaching assistants in Mon State
HURFOM: The Ministry of Education and the Ministry of Ethnic Affairs have jointly appointed over 300 non-Burmese ethnic language "teaching assistants" in government schools across 10 townships in Mon State for the 2019-20 academic year. These teaching assistants (TA's) will be responsible for teaching Mon, Karen and Pa'O languages, according to the statement released by the two Ministries.
Of the 340 TA's 171 will be for the Mon language, 148 for the Karen language and 21 for the Pa'O language, confirmed U Saw Aung Myint Khine, from the Karen Ethnic Affairs Minister of Mon State government.
"We've appointed (teacher assistants) basing on the need of the schools and the number of applicants. The person who applies for the position must pass their Grade 9 [levels}. The State (Union Government) decided [on] the appointments because there is a shortage of (ethnic language) teachers in (government) schools. This is the second time of [such] appointments," said the Minister.
The first appointments took place in the 2017-18 academic year when 424 "teacher assistants" and 126 "language teachers" were appointed to teach non-Burmese ethnic curriculum in government schools in Mon State.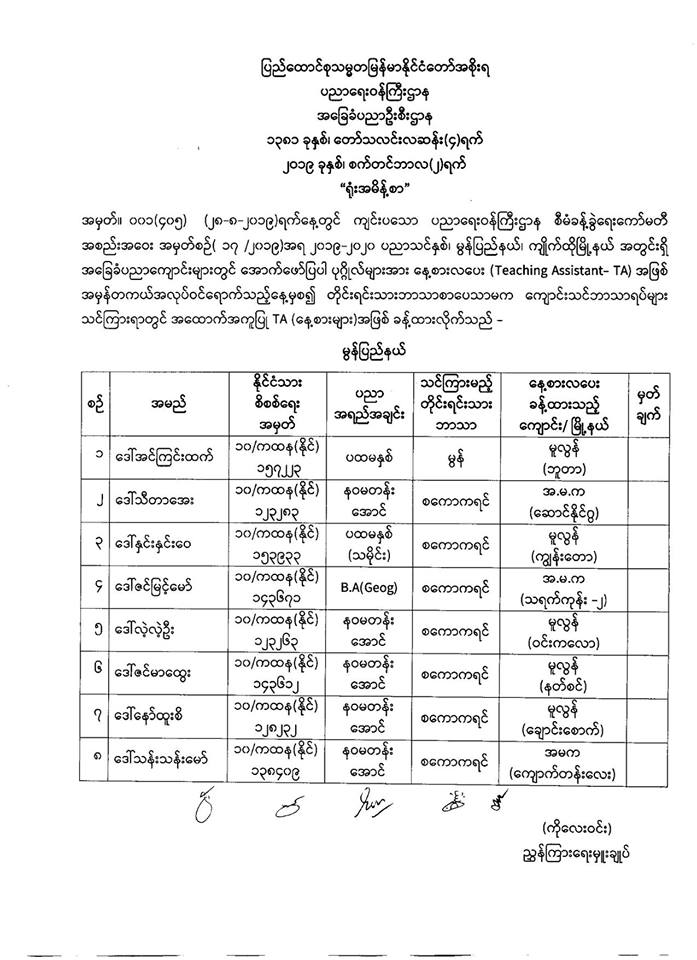 Those who were not appointed as "teacher assistants" would have a chance to serve as "language teachers" and would be paid 30,000 kyat a month while "teacher assistants" are paid 4,800 kyat per school day. "Teacher assistants" would also be trained to teach other curriculum, according to the Minister.
The newly appointed "teacher assistants" schedule will assist students to learn local geography and cultural heritage three times a week, and twice a week with ethnic language learning.
"I'm a primary school teacher and I'm teaching students from Grade 1 to Grade 4. I am paid [on a] daily bias and get 4,800 kyat per day. Now, every academic year [brings] new curriculum so we need training (for the new curriculum). There are 5 school days a week and I teach one-hour class a day," said a Thanbyuzayat resident who has recently been appointed as a "teacher assistant".
"Teacher assistants" have been appointed by the Ministry of Education so their salary will be paid from the Union government budget.
"It's good that (non-Burmese ethnic language teachers) are appointed as government staff. And their main duty should be teaching ethnic languages. When they have spare time, they can teach other languages. I've heard that some "teacher assistants" (non-Burmese ethnic language teachers) can't teach ethnic languages as they have to teach another curriculum," mentioned Min Aung Zay, a Program Coordinator of the Mon National Education Committee.
In the 2017-18 academic year, there were 568 Mon language teachers, 371 S'Kaw Karen language teachers, 113 East Poe Karen language teachers, and 66 Pa'O language teachers.
According to the Myanmar Radio and Television (MRTV) Website, there are 13,050 Mon students, 12,460 S'Kaw Karen students, 4,773 East Poe Karen students, and 2,156 Pa'O students.
Comments