Mon language learning under threat as government fails to provide students with textbooks
HURFOM: Government schools throughout Mudon Township, Mon State, have been permitted to conduct Mon language lessons for 45 minutes per day throughout the 2019–2020 academic year. However, teachers tasked to deliver such lessons report that the Mon State government has been unable to provide each student with the accompanying Mon language textbook. As a result, teachers have resorted to writing the lessons on blackboards, thereby wasting the majority of the allotted 45 minutes.
"From grades one to three, there are hundreds of students learning Mon language, but not every student has their own textbook. In fact, less than half of all students have their own book…Two or three students have to share one book. We have to write each lesson on the board. It takes up a lot of time, and we only have 45 minutes to deliver the lesson," said Mi Ru Par, a teacher from Nyne Prine village.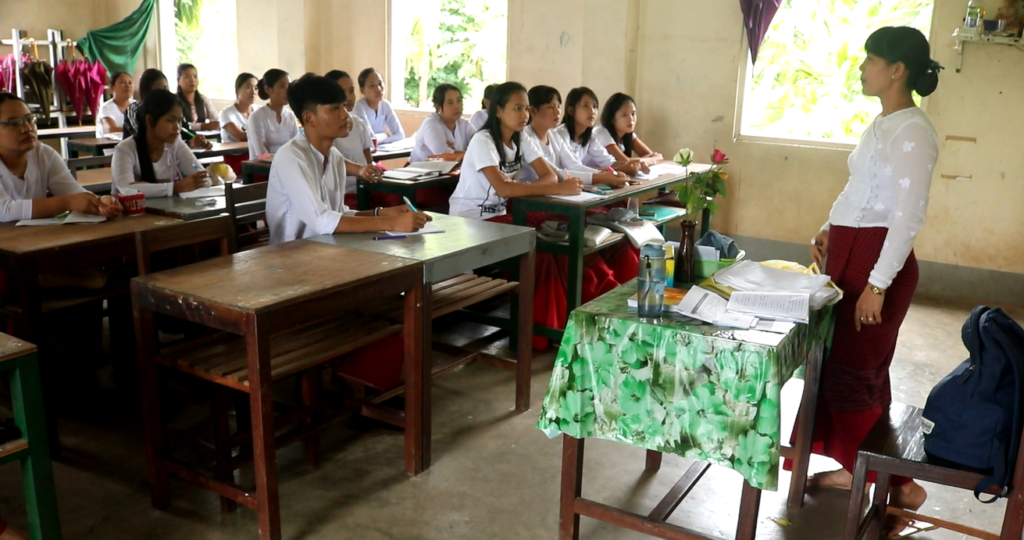 Currently, there are 50 government schools that conduct Mon language lessons in Mudon Township, with 499 teachers delivering the curriculum.
"Because Mon language learning is a minor subject and students don't need to sit for an exam, students are uninterested. Some students don't even partake in the [Mon] language class. I think language textbooks should be provided to every single student, and that students should sit for a language exam. If they [students] had to sit for an exam, I believe interest would increase. Right now, we have very limited time to deliver each lesson, and the class is optional. This approach to language teaching and learning simply isn't effective," said Mi Wood Mon, a teacher from Set The village.
The Mon State Parliament permitted government schools in Mon State to conduct Mon language courses beginning in the 2014–2015 academic year. Teachers who opt to teach the language course receive 30,000 kyat (US $19.88)in addition to their monthly salary. Though the teaching of Mon language courses is permitted, the priorities of individual school administrations means that some schools only provide such lessons once the school day has officially ended.
"I am aware that there is a shortage of Mon language textbooks, and I realize that the government cannot afford to provide the number of books needed because printing these books is so costly. As well, there are no funds allocated to Mon language teaching in the [Mon State] budget. I think the Ministry of Ethnic Affairs should meet with the Ministry of Education to determine how the needed funds can be procured. Next year, we must request more funds to ensure that each student receives a textbook, but we can't say if the government will choose to lend its support," said Nai Tun Shein, and member of Mon State's Ethnic Affairs Committee.
As of 2019, there are 1,265 teachers in government schools conducting mother-tongue language courses in Mon, Pa'O, and Karen languages throughout Mon State.
Comments