2,000 in need of humanitarian assistance on Kalagoke Island in aftermath of cyclone Pabuk
HURFOM: Nearly 2,000 people are in need of humanitarian assistance, while schools, monasteries, and some 400 houses sustained damage after tropical cyclone Pabuk swept across Kalagoke Island, Ye Township, Mon State, at approximately 8 am, on January 8th 2018.
According to Kalagoke Administrator U Taung Sein, Pabuk was only the second tropical cyclone to hit the island in recent memory. In all, 396 houses, two schools, and two monasteries were damaged.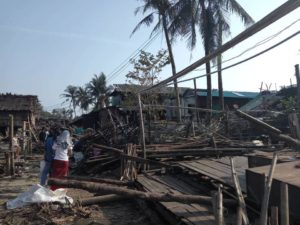 "For those whose houses were damaged, we let them stay in the monastery. Now, because exams draw near…we've hurried to repair the schools. For Basic Education High School on the lower part of the island, we've prioritized for 5th, 8th, and 11th grade students to return to classes.…We're focusing on repairing the school," said the administrator.
Currently, the Ministry of Social Welfare, Relief, and Resettlement is working to repair the schools, monasteries, and utility poles damaged by the storm.
Of the 396 houses impacted by Pabuk, 111 have entirely collapsed, while the remaining 285 sustained exterior damage. Altogether, 1,927 people, 493 of whom are children under the age of 12, have been directly affected by the storm according to the administrator.
The Mon State government will provide 100,000 kyat (US $65.31) to those who have lost their houses, and 50,000 kyat (US $32.65) to those whose houses were damaged, explained Sein.
"On January 10th we called a meeting so the government can plan how best to support the victims. Those who sustained little damage will be okay, but the people who lost their houses will face great difficulty," said the administrator.
"I have two children who live in different houses because they're married, and three children who live with me…Those whose houses have collapsed will be supported with only 100,000 kyat, so it's difficult to rebuild our homes," said Daw Pie, a 67-year-old woman whose house collapsed during the storm.
"We're lucky that the storm happened during the daytime. If it had happened at night, we would all be dead. As soon as the storm swept across the island, it was dark, and we couldn't see anything… The storm lasted for 15 minutes…It didn't take long, but it did a lot of damage," continued Daw Pie.
When Pabuk made landfall, most Kalagoke villagers were in a local monastery attending a Dhamma ceremony. Perhaps for this reason, Pabuk claimed no casualties despite the collapse of 111 houses.
On January 10th 2019, a team of made up of Mon civil society organizations including the Human Rights Foundation of Monland (HURFOM), Mon Women Coalition (MWC), Mon Women's Organization (MWO), and Jeepyah Civil Society Development Organization (JCSDO) traveled to Kalagoke to provide those affected by the storm with rice, cooking oil, and salt.
Though such aid is surely welcomed, the onus rests with the Mon State government to provide more financial support to those Kalagoke villagers who have been left without a home in the aftermath of the storm.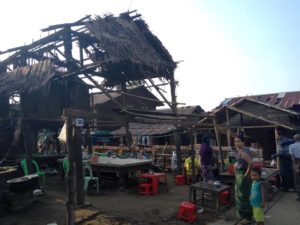 Tropical storm Pabuk was an out-of-season cyclone originating in the Gulf of Thailand before making landfall in the Pak Phanang district of Thailand's Nakhon Si Thammarat province on the evening of January 4th 2019. The first tropical cyclone to hit Thailand's south outside of monsoon season in 30 years, Pabuk was downgraded to a tropical depression as it moved westward across Myanmar and the Andaman Sea.
Comments