Locals upset with indiscriminate taxing of vehicles on Thanbyuzayat-Ye Highway in Mon State
HURFOM: Villagers in Ye Township, Mon State are crying foul over an entrance tax to Lamine Town that indiscriminately taxes travelers along the Thanbyuzayat-Ye Highway. The Lamine Sub-Township Municipal Department erected the toll gate at the Mawkanin village junction along the highway, however travelers who pass straight through and do not exit the highway at the junction toward Lamine Town are still forced to pay the fee.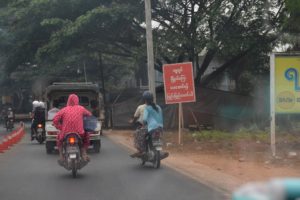 "The municipality said the gate is there to collect tax on vehicles that go to [Lamine] Town. Lamine Town is situated to the west of Mawkanin village. The gate should be inside or outside Mawkanin along the road to Lamine. Instead they've installed the gate at the entrance to Mawkanin on the highway so the ones who want to use the Thanbyuzayat Highway also have to pay the tax. The ones who go to Ye also have to pay the tax even though they don't pass through Lamine Town. So it's not logical," said Nai Tar Oo, a Mawkanin village resident.
Locals angry about the gate say they have submitted several reports to Dr. Min Kyi Win, the Mon State Minister of Natural Resources and Environmental Conservation, but no changes in the situation have occured.
Responding to the public outrage, Dr. Min Kyi Win addressed the issue in parliament, saying, "Lamine is not on the Thanbyuzayat-Ye Highway …so the Lamine Municipality should not collect tax at the entrance of Mawkanin village." Dr. Min Kyi Win added that local members of parliament have attempted to negotiate with the [Lamine Municipal] Department to move the gate closer to Lamine Town, however those efforts have been unsuccessful.
According to U Min Kyaw Lwin, the Mon State Minister for Construction and Municipal Affairs, the government has no plans to order the removal of the gate, saying "municipal departments are legally allowed to collect tax on vehicles that use roads in their municipal zones." He added, since Mawkanin village is within their municipal area, the Lamine Municipality has fair game to collect tax.
Unsatisfied with the outcome in parliament, locals admit they are not sure what to do next, except express frustration over the unwillingness of parliament to listen to local voices.
"We've filed a report with authorities, but there has been no improvement. We've also informed the [Mon State] Parliament, but again nothing has changed. It is absolute nonsense," said Nai Tar Oo.
Vehicles passing through the gate are taxed progressively according to size, with large trucks paying 500 kyat, middle-sized trucks paying 300 kyat, and small vehicles paying 200 kyat.
After the National League for Democracy (NLD) came to power, villagers in Mon State have reported a proliferation of 'town entrance fees' instituted by local municipalities.
Comments