Villages in Thanbyuzayat Township to request use of government schools for Mon language summer classes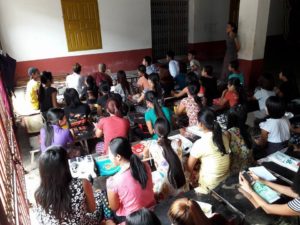 HURFOM: Even though the time for Mon language summer classes is approaching, some Mon villages in Thanbyuzayat Township have a shortage of class space and may be unable to provide summer instruction. This has led the Summer Class Committee to submit a request to the Mon State Ethnic Affairs Committee to provide accommodation, according to the Venerable Monk who leads the Thanbyuzayat Township Mon summer classes.
"Some villages have requested summer classes but they have no vacancies for classrooms. The Ethnic Affairs Committee said to send them the list of villages that have no space for classes. Now, we have collected the list and sent it to the committee, but we haven't received a reply yet," said Venerable Monk Soi La Wun Ta, the Chairperson of the Thanbyuzayat Mon Summer Class.
The majority of villages in Thanbyuzayat Township hold Mon language summer classes each year, however this year about ten villages have asked for help in finding space for holding classes.
"Now, it's the time for matriculation exams and they'll reply after the exams. We are thinking of holding Mon summer classes in the government schools. But we have to make a request to the Ethnic Affairs Committee. If they give us the green light, we'll run our classes in the government schools," said the Monk.
Mon summer classes usually start right after matriculation exams have finished and are held in Mon monasteries for several months.
Comments