Mon youths call for unification of all Mon political parties at 6th annual Mon Youth Day
HURFOM: Organizers of the 6th anniversary of Mon Youth Day called for the unification of all Mon political parties into a single, inclusive entity, during the December 28th 2017 event in Kamarmo village, Chaungzone Township, Mon State.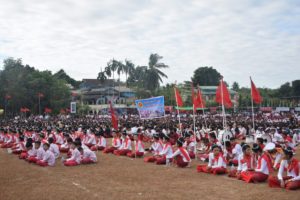 "As we now have the chance to be involved in politics, we don't want disunity amongst the Mon political parties. We just want a single political party that can represent all Mon people. We will also look for a solution during the upcoming Mon Political Conference in January 2018. We will never give up," said Nai Janu Oo, secretary general of the Mon Youth Forum (MYF), the primary organizer of the event.
According to Nai Nyan Seik Raman, a member of the event organizing committee, a petition for unification circulated during the ceremony and the signatures collected will be presented at this month's Mon Political Conference.
"Disunity amongst the adults also has an impact on the youth, because [most youths] are influenced by their particular leaders. However, we only want a single Mon political party which will represent all Mon people. So we oppose all [political] parties which refuse to unite," continued Nai Nyan Seik Raman.
He also confirmed that if necessary, MYF will organize a protest to pressure Mon political parties to form a single party.
"If we have many different [political] parties we will fail in the elections. We can't cover the whole country; we can only compete for the election in our region. So, if we have many different parties, we will not be able to get enough votes and will lose to our opponents. That's why Mon youths have been demanding to have a single and inclusive Mon political party," explained Nai Nyan Seik Raman.
According to a young participant at the event from Mawlamyine, the disunity amongst Mon political parties makes choosing who to support in the elections challenging and a single, inclusive Mon political party would make the voice of Mon people stronger.
Nearly 1,000 participants attended this year's Mon Youth Day ceremony, including Mon youths, monks, and members of civil society organizations (CSOs).
Comments