Justice, rule of law, and education key to breaking cycles of GBV in Mon State: Ethnic Affairs Minister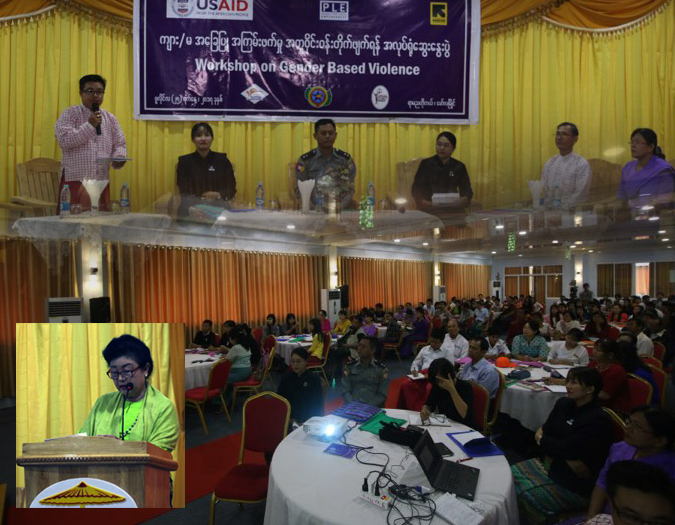 A joint workshop on the prevention of gender-based violence was held in Mawlamyine, Mon State on July 25th 2017. The workshop was conducted by Legal Clinic Myanmar (LCM), Mon Women's Organization (MWO), and Human Rights Foundation of Monland (HURFOM).
One-hundred-and-thirty participants from local CSOs and NGOs, as well as representatives from both police and Mon State government departments attended the workshop.
In her opening speech, Daw San Wint Khaing, Minister of Pa-O Ethnic Affairs for Mon State, highlighted that gender-based violence is not only a human rights violation, but a public health challenge and a barrier to political, social, and economic development as well.
"Our target is to reduce and prevent gender-based violence, and to emphasize that it is strongly needed for our community. Myanmar [Burma] has been signatory to the United Nations CEDAW [Convention on the Elimination of All Forms of Discrimination Against Women] since 1997. That is why we have had a 12-point action plan on gender since 2013," said Daw San Wint Khaing.
The Ministry of Social Welfare, Relief, and Resettlement released their ten-year National Strategic Plan for the Advancement of Women in 2013, with a key objective to eliminate all forms of violence against women and girls.
According to the Ethnic Affairs Minister, rule of law and justice for crimes against women and girls are necessary components for reducing current levels of violence. Daw San Wint Khaing also emphasized the need to address the impact of gender-based violence on young children and the importance of education in order to break cycles of violence.
"When we talk about gender-based violence we need to talk about the impact of that violence [on children]. No matter if they are female or male, when they face this violence during their childhood, they may become the perpetrator [in the future]. So we need to make sure this doesn't happen and start educating them [about gender-based violence] when they are still young," continued Daw San Wint Khaing.
Although Burma ratified CEDAW in 1997, its union-level parliament has yet to approve the draft National Prevention of Violence Against Women bill, despite being 'near completion' for several years.
While the bill has had broad support from advocates on women's rights and civil society, others urge the government to include access to resources for survivors of gender-based violence.
"In order to provide services ranging from medical treatment and psychological counseling, the state should establish and support some assistance centres for both young and adult victims of gender-based violence, including legal representation and vocational education. We don't fully expect integrated services right away, but at least the government should start these processes to reduce levels of impunity and promote fairness in the treatment of victims of gender-based violence," said Nai Aue Mon, Program Director at HURFOM.
HURFOM has extensively documented violence against women and girls, most recently releasing Cracks in the Silence, which explored the increasing number of reports of sexual violence against children and the challenges to accessing justice in Mon State and Mon areas of Burma.
Comments