14-year-old girl raped twice by her step-father in Ye Township
A 14-year-old girl from A Sin village, Ye Township, Mon State, was raped twice by her 48-year-old step-father.
On May 12th 2017, the girl's mother, Daw K—, went to the hospital in Ye City to stay the night with her nephew who was ill and receiving treatment at the local hospital. She left her daughter and her 11-year-old niece with her husband at home. That night at around 10 pm, the perpetrator asked Daw K—'s daughter to fry some beans for him. When she came out from her bedroom, the perpetrator covered her mouth and raped her in front of her room. Daw K—'s 11-year-old niece saw the incident and the perpetrator threatened both of the girls saying he would kill them if they told anyone about the incident. On June 9th 2017, the girl's step-father came to her room and raped her again while her mother was out selling beans.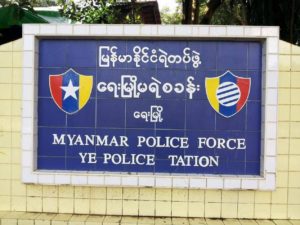 On June 22nd, the victim told her mother that she had been raped by her step-father and her mother reported it to the Ye City Police Station around 8 pm that evening. The perpetrator was arrested that night and the police have charged him under Penal Code #376 (punishment for rape).
On June 27th 2017, the girl's mother reported that, "after the incident the girl feels shy and does not want to go to school. Even though I encourage her to go to school, she does not dare to go. Her teacher knows about it because my daughter's friend told their teacher. I am not sure whether the headmaster knows about it or not. I feel very sad for my daughter. I feel this incident has destroyed my daughter's life. I want him to be punished for his actions [even though he is my husband]."
The girl has suffered from stomach pain since she was raped and received x-ray tests in Ye Hospital on June 23rd, however the results have not yet been released. Before the incident, she attended grade eight at high school in A Sin village, Ye Township, Mon State.
Comments