Locals in Kyar Inn Seik Kyi Township upset with armed group's new tax
Locals in Kyar Inn Seik Kyi Township, Karen State, have expressed displeasure with the Karen National Union's (KNU) recent imposition of a tax on local businesses without notifying and negotiating with the New Mon State Party (NMSP) first in the mixed-controlled areas of the township.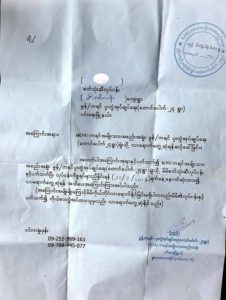 "We have never seen the Karen armed group [KNU] collecting tax in the 24 villages that are in the NMSP and KNU mixed-control areas [in Kyar Inn Seik Kyi Township]. The KNU did not notify the NMSP that they would start collecting money from the owners of businesses. I feel unhappy about this. We informed the NMSP about this and they told us not to give tax money to the KNU," said Mi Aue, the owner of a gasoline shop in Kraone Ka Yai village.
On March 24th, Battalion #6 of the armed-wing of the KNU — the Karen National Liberation Army (KNLA) — sent letters to local business owners in the 24 villages in the mixed-control area of Kyar Inn Seik Kyi Township informing them they must come to meet them at the NMSP-KNU joint administration office in Kyar Inn Seik Kyi Town on March 30th.
The NMSP administrator of Kyar Inn Seik Kyi Township explained to HURFOM, "We have previously talked with the authorities from the KNU about collecting tax from the locals in the mixed-controlled areas of the NMSP and KNU. They have never collected [tax] in the past and we have not approved it [this time as we were not notified]. We [NMSP] told the locals not to pay them [KNU] as well."
While gasoline shop owners are taxed approximately 100,000 kyat, for other businesses the amount of tax varies depending on the size of their business.
Kyar Inn Seik Kyi Township residents told HURFOM's field reporter that the NMSP and KNU have an agreement that in their mixed-controlled areas, they must discuss and reach an agreement before new initiatives are implement in those areas.
Comments