More than half of eligible voters did not cast votes in Chaungzone Township by-election
HURFOM: According to the All Mon Region Democracy Party (AMDP) only 38.4% of eligible voters participated in the April 1 by-election in Chaungzone Township, Mon State. Only 48,532 of Chaungzone Township's 126,225 eligible voters cast their vote.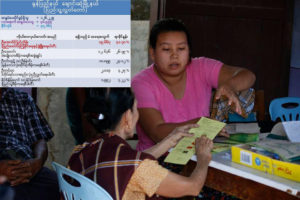 "The people in Chaungzone have less interest in politics and didn't cast their vote [in the by-election]. Moreover, most of the Mon ethnics didn't go to the polling station. The [Mon] voters lost interest in the by-election because the two Mon political parties competed for [the election in the same constituency]," said Nai Sein Tun, a Secretary Committee Member of the Chaungzone AMDP.
The low voter turnout is attributed to the dissatisfaction with actions by the new National League for Democracy (NLD)-led government and the limited knowledge of politics by Chaungzone Township residents.
"When the National League for Democracy competed in the [2015] election, they promised they would introduce genuine changes, but the NLD hasn't met the needs of the civilians and even denied the voices of the locals in the naming issue of the Than Lwin (Chaungzone) Bridge. So the civilians have lost their trust in the [new] government and politics," continued Nai Sein Tun.
The April 1 by-election was held in 19 constituencies throughout Burma, including a vacant parliamentary seat in Mon State. Five political parties — the NLD, the AMDP, the National Unity Party (NUP), the Union Solidarity and Development Party (USDP), and the Mon National Party (MNP) — had competed in the by-election.
Nai Aung Kyi Thein of the USDP won the by-election in Chaungzone Township with 19,667 votes. U Aye Win of the NLD, Nai Win Htut of the AMDP, U Tint Wai of the NUP, and Nai Sein Mya Maung of the MNP, received 12,636, 10,859, 2,813, and 1,992 votes respectively.
Chaungzone Township has 78 villages and its population is approximately 200,000. There are about 20 ethnically Mon villages and several Karen villages, while the remaining villages are dominated by ethnic Burmans.
Comments