Mon National Schools face funding crisis over teacher salaries
HURFOM: Mon National Schools are currently facing a funding crisis for teacher salaries, according to Nai Ongjanah from the Mon National Education Committee (MNEC). The former teacher made the remarks while being honoured at the Thanbyuzayat Township 35th Academic Recognition Ceremony organized by the MNEC fundraising committee.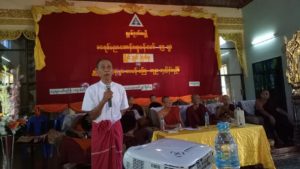 Presently, Mon National Education is dependent on donors World Education and Norwegian People's Aid. MNEC teachers are supposed to receive 70,000 kyat per month; however, both donors only provide a monthly salary of 40,000 kyat per teacher, leaving villagers to make up the 30,000 kyat difference. However, many villages cannot afford to supplement the donor income. MNEC officials are now concerned about potential cuts to donor funds.
"The donor situation is one of a lack of focus on providing for our Mon education and we are facing great difficulties because of it. If the donors cut the funds and the villagers can't provide funds for the teachers anymore, our schools will be in trouble. I would like to say: please provide for our schools. If every household provides at least 500 kyat every month, our schools can run smoothly," said Nai Ongjanah.
Mon communities have pitched in to help fundraise, with monks soliciting funds through Buddhist sermons to Mon communities in other countries, as well as asking Mon businesses in Burma and other countries to support Mon National Education.
Nai Ongjanah added that, "there are 800 teachers in the Mon National School system and we need to spend 56 million kyat per month on salaries. If we can't find 56 million per month, the school can't run anymore in the future and we are faced with great difficulties for our Mon generation."
While there are Burma government funded basic education schools in Mon State, Mon National Education schools provide thorough instruction in Mon language and Mon history, as opposed to government funded and mixed schools.
Comments