Forced relocation looms over 80 households in TPP
HURFOM: According to HURFOM field reporters, military authorities in the Three Pagodas Pass (TPP) area plan to reclaim land they previously granted to conflict-affected people in order to expand their current military base. Authorities from the Light Infantry Battalion (LIB) No.284 called a meeting with local residents on July 8, 2012, to announce the obligatory relocation of more than 80 households by November of this year.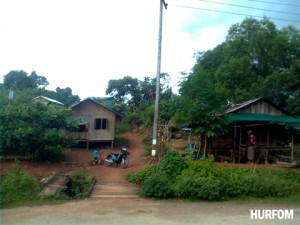 In 2005, military authorities offered to aid people fleeing from armed conflict in Southern Karen State by providing them with living space on unused military lands in the lower part of quarter No. 3 in TPP. While some displaced people were not able to live permanently on the land because it was too far from their jobs in TPP, many new residents paid 1,500 Baht to land survey officials for permission to build houses on small plots of land (25′ and 40′).
Some of the families that purchased land and built two-story cement houses estimate that their properties are now worth between 4 million and 5 million Baht. The impending relocation will mean forfeiting the value of their homes and paying for a new place to live somewhere else.
A military decree states that an official document called "La Na/No.39" is the only acceptable land grant certificate identifying land ownership. Without the La Na/ No.39 certificate, which is obtained by paying a tax to government land survey officials, any person living on the land is considered illegal and can be relocated at any time. Local residents with a "105 form" are temporarily permitted to remain until they can get the La Na/No.39 documentation, but those without must move immediately. Any household without the La Na/No.39 form by November will have to relocate.
A former member of the village administration said that some residents who could not afford to buy property in TPP had rented land for 200 to 300 Baht per month from the village administrator. With the news of relocation, these families are faced with finding a new place to live, but are no more able to purchase property now than they were before.
Military authorities plan to use the reclaimed land to extend their current base to the Dahhma Hay Won monastery in quarter No.3 and from the upper part of the Oo Daung Khan to quarter No.2. More than 80 households are located on these two quarters that lie within the military's property line.
Local residents are fearful about the approaching relocation because they cannot afford to buy new property in TPP and have depended on the land as a source of income and security for many years.
One field reporter said, "In my view, the military should give the residents who live on the land their 1,500 Baht back in exchange for leaving the land. I am not sure what the military and the land survey officers decide to do."
Comments