Weekly Overview: Human Rights Situation in Mon State, Karen State and Tanintharyi Region
HURFOM, Third Week of October
Over the last week, the military junta has continued manipulating the Burma system to mock the rule of law as they target civilians. The regime does not consider fundamental freedoms and upholding and protecting human rights. The Human Rights Foundation of Monland (HURFOM) reported several cases of more pro-democracy forces being assaulted and charged under fabricated charges and baseless allegations.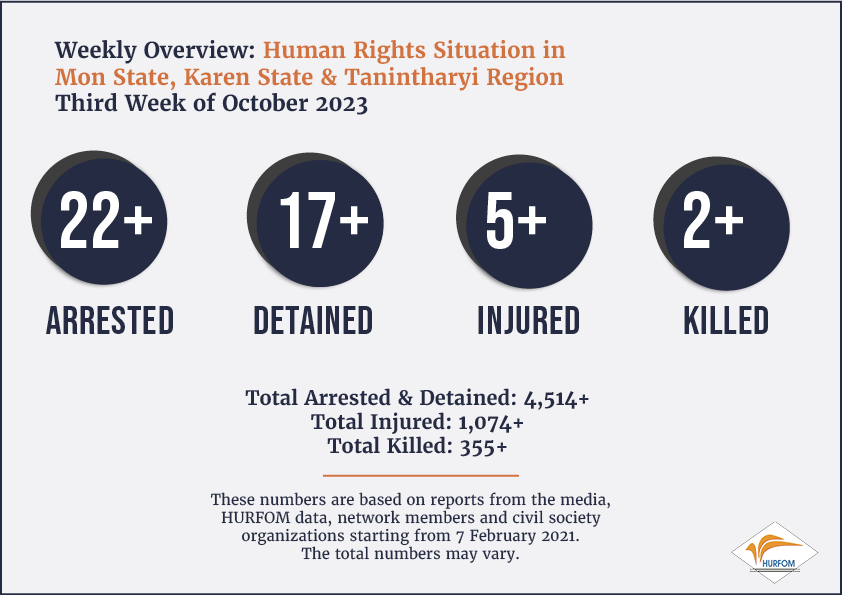 The lack of adequate response from the international community has prompted frustration and impatience from civil society organizations, who have continued to call for more concerted, coordinated, and compassionate action. On 17 October, more than 400 human rights groups called on the United Nations General Assembly and its Members to take swift action to hold the military junta to account through a United Nations Security resolution, which includes a referral to the International Criminal Court, a global arms embargo and coordinated sanctions.
HURFOM's findings were released in a report last month: The Resistance and Resilience of Civilians in Southeastern Burma: Human Rights Violations from January to June 2023, revealing a worrying trend of ongoing suppression of crimes perpetrated by the junta. The Burma Army has responded to the widespread opposition with acts of terror because they fear accountability for their actions, and they most certainly are concerned about a future that adheres to international law and human rights principles. Further, the junta is aware of the power of the Spring Revolution and the determination of the people who refuse to live under a dictatorship.
On October 16, 2023, the Dawei District Court sentenced a 21-year-old university student from Dawei to 15 years imprisonment after accusing him of supporting the People's Defense Forces (PDFs). Ko Linn Htet Phyo, a second-year philosophy major, was arrested at his home on July 26, 2023. The junta charged him under the Anti-Terrorist Act sections 50((J) and 52(A).
"While pronouncing the sentence, the judge said they found the evidence of connection with the PDF on Ko Linn Htet's mobile phone. This decision is the final one."
He was sentenced to 11 years imprisonment for breaching section 50(J) and four years of imprisonment with hard labor for contravening section 52(A). The total imprisonment time is 15 years. Before the attempted coup, Ko Lin Htet Phyo was a DJ.
In addition, HURFOM reported that between 7 and 9 October 2023, the junta's artillery regiment arrested 24 Kyauk Ka Nyar village residents in Yebyu Township, Dawei. Only five arrested were released, and 19 remain in custody: "Some of those arrested during the military operation were released on the same day. But most have not been released yet. Just five were released," said a local source.
Most of those arrested are young men and are being detained and interrogated at either the Kyauk Ka Nyar artillery regiment base or the Yebyu Township Police Station:
"The military initially arrested them to be used as a human shield, but we don't know why the artillery regiment made the arrest," said a local Kyauk Ka Nyar villager.

The Kyauk Ka Nyar-based artillery regiment has hidden themselves in nearby areas and arrested villagers. This particular regiment has attempted to hide in nearby areas and is arresting villagers without cause. Local men are fleeing for safety and will not stay in the village.
And still, the junta continues to launch indiscriminate attacks. On October 11, 2023, two local men from Tanintharyi were wounded by the artillery attacks launched by the military. These attacks injured a 14-year-old boy from Lel Taung Yar village and another local man from Ta Moke Chone village.
Comments