Weekly Overview: Human Rights Situation in Mon State, Karen State, and Tanintharyi Region
HURFOM | May Week Four
As yet another month ends, the Human Rights Foundation of Monland (HURFOM) remains deeply concerned over the country's fragmented state of affairs, particularly from a human rights perspective. While morale plunges, lawlessness and disregard for the protection of the people are causing a rapid decline in safety and security. The circumstances have made it increasingly difficult for HURFOM to conduct our fieldwork and activities as informers and junta-backed militias target anyone affiliated with the pro-democracy movement.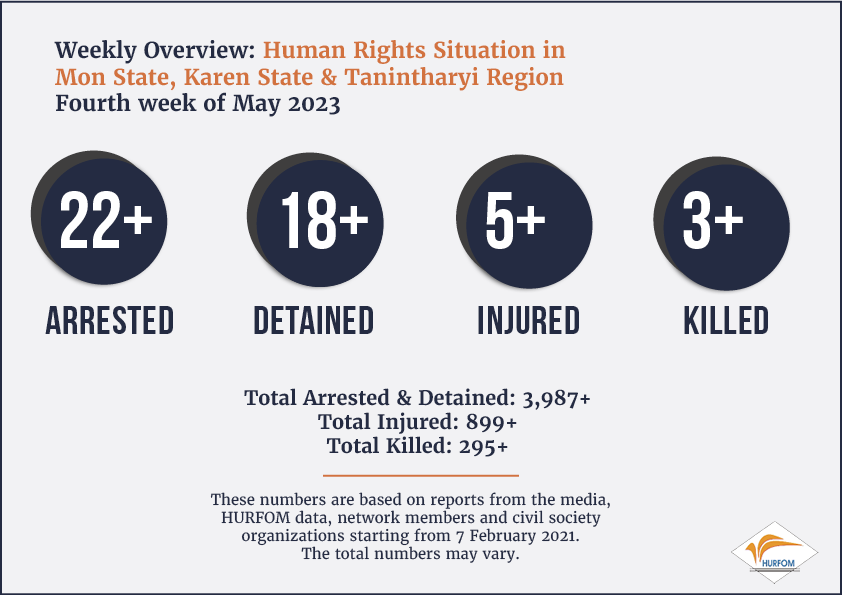 Villagers continue to be arrested and subjected to severe abuse, including being forced to guide soldiers as porters. According to International Humanitarian Law, using human shields is strictly prohibited. This is also stated in the Geneva Convention. The fact that the military regime carelessly embarks on missions intended to devastate communities makes it clear that they act with impunity.
According to local sources, the junta forces that entered the villages in eastern Dawei these days arrested at least ten villagers from three villages in the area and used them as human shields along with its troops on 21 May 2023:
"At least five or five villagers from the village of Dar Thwe Kyauk were taken away and forced to go ahead and act as guides. Also, they entered Ah Nya Pyar village, arrested two more people, and then went down to U Yin Kyi village," said the locals.
Residents also stated that they opened fire at several points with heavy weapons before entering the village: "The sound of gunfire and artillery started at 9 PM. We heard around ten gunshots and several explosions."
Over this last week, the military junta also targeted young women, some as young as 15 and detained them for unjust causes. On May 19, family members reported that the junta in Launglon, Dawei arrested a 16-year-old. She has not been heard from since 22 May.
According to family members and friends, the junta arrested Ma Yin Phuu Pwit, a teenager. She was taken away at a family-owned restaurant in Maungmakan Beach:
"Military intelligence came first in civilian clothes with the exact names of the person and store. Then the junta soldiers from the Moungmakan police station arrived in a car and arrested our daughter."
Almost all police forces came and arrested her in civilian clothes. The resident said, "Yin Phuu Pwit is a person who sells and buys online, and it is not yet known exactly why she was arrested. Usually, the junta targets successful people. The military constantly watches them. We don't know precisely whether Yin Phuu Pwit has shared current movement-related posts or written comments," another resident assumed. "One possibility is that, like previous cases, the junta military arrested her on suspicion of helping the revolution."
A few days later, another young woman was abducted by the junta. According to local sources, Ma Chaw Su Ther, who lives in Maung Ngan quarter, Mon State, was kidnapped by the junta intelligence at 3 PM on May 22 for allegedly 'spreading false news' on social media. The detainee is 21 years old. She was arrested at home.

The junta said they found information on her Facebook which could 'negate to the state and public unrest.'
Ma Chaw Su Ther (Mi) was sentenced and charged with 56/2023, section 505-A of the Penal Code at the court. Currently, many social network users are being monitored.
Further, the increasing surveillance and abuse of law show the deeply worrying extent to which the junta is willing to go to create an illusion of legitimacy. In reality, the people have widely rejected the military and will continue working toward their freedom and dismantling militarized systems.
Comments