Weekly Overview: Human Rights Situation in Mon State, Karen State, and Tanintharyi Region
HURFOM | Week Two
Despite the annual traditional Thingyan celebrations, typically when the people of Burma participate in various New Year activities and ceremonies, the junta has once again given no reason to celebrate. The brutal presence of the military junta has quieted all plans, and boycotts have seen empty streets where barricades are placed. The violence by the Burma Army continues to escalate. During the last week in Mon State, Karen State and the Tanintharyi region, the Human Rights Foundation of Monland reported on more volatile crimes committed with impunity. Women, children, and the elderly, in particular, were targeted. The situation is dire and requires an immediate response.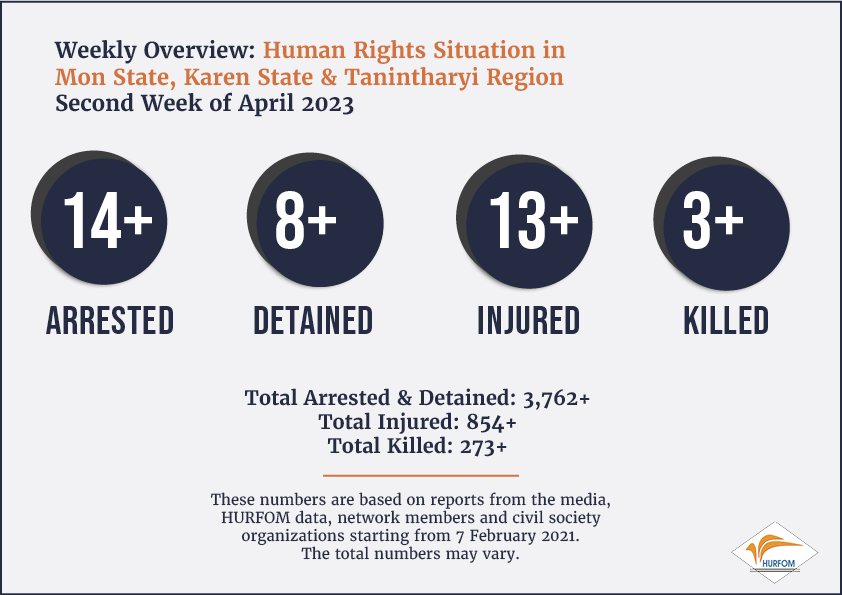 Indiscriminate artillery shells fired by junta forces injured at least seven villagers, including young children. At least ten civilian houses were destroyed in southern Tanintharyi on 8 April at 9 AM:
"Our village is located in Tanintharyi Township, Myeik District. The perpetrator forces were from the Myeik base Artillery Regiment Command of the junta. They intentionally fired toward our village," according to the 60-year-old village committee member.
"So far, we have received these patients who were wounded by the artillery shells fired by the junta," according to social response team members.
"Six houses from my village and another four from Nan Seik Pyin, a village next to Maw Tone, were damaged," said a local.
"Two artillery shells hit the legs, hands, and soles of the feet, and some boys were struck in the backs. An older man was also hit in the back. Two boys were injured. All of them were males," said a 34-year-old Maw Tone villager.
Another older man was killed by the junta, likely from the wounds he sustained in military custody. At 8:30 AM, in Yebyu Township, in Dawei, villagers from Kalein Aung town reported to the HURFOM network field team that one of the two local men arrested at the police station had died. The victim, U Phyu, age 50, passed on April 11. On April 8, he was arrested by the secret junta police with another 55-year-old villager, U Ko Lay Myint. U Ko Lay Myint has yet to obtain any information.
"One possibility is that the Junta detention center was subjected to so much illegal torture that it is speculated he may have died from the injuries from torture," the source expressed.
According to a source from the police, the junta arrested U Phyu. When they searched his phone, they also found some revolutionary photos.
The police informed the family that they would return the body," said a resident. Deaths of detainees in prisons have occurred in Dawei District in large numbers since the coup, and each case has ended with no justice or accountability.

In Billin township, at least eight residents were wounded due to intentional artillery fire by the junta military in Aloo-Lay village, Thaton District, Mon State.
At around 8:30 AM on April 12, junta forces fired more than 12 artillery shells into the village. At least eight people, including Daw Khin Lay, Phwar Shan Ma, and Ko Htein Lin Oo, were injured. One resident was in critical condition after being struck by a mortar shell that exploded near his home.
These incidents indicate the rampant impunity which continues to thrive in Burma because soldiers and Commanders responsible are not held to account. Until there are grave consequences, these incidents will continue to occur. The international community must act.
Comments