Weekly Overview: Human Rights Situation in Mon State, Karen State, and Tanintharyi Region
HURFOM | April Week One
Despite the annual New Year festivities celebrating 'Thingyan,' the military forces of the Burma Army have not hesitated to continue their crackdown on civilians as they continue to target alleged opposition forces. Martial Law, in particular, has been imposed in several townships where the Human Rights Foundation of Monland (HURFOM) is documenting rights abuses. After the junta's martial law imposition in southern Mon State, the number of people killed and wounded by gunshots has increased in the areas between Ye Township Mon and Yebyu, of Tanintharyi Region. Injuries and death rates are also rising as punishment for violating them.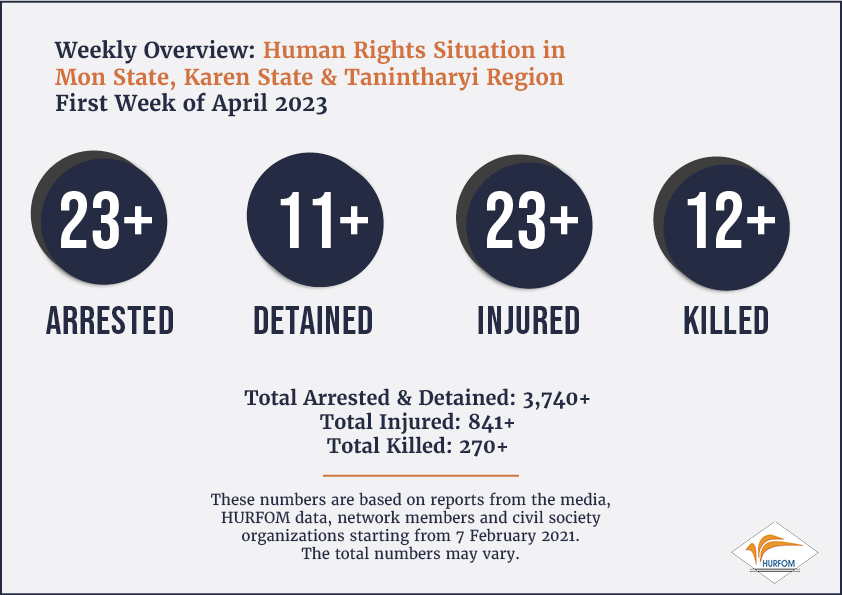 The curfews imposed by the regime are impacting local people's ability to sustain their livelihoods. In Mon State, residents confirmed that the junta troops killed three civilians who had gone missing in Ye Township and Bilin Township. The regime accused them of violating the curfews declared under Martial Law.
On March 26, at 11 AM, the junta opened fire on two youths aged 17 and 20. They were standing on the highway road between Dout-Yep and Shwe-Yaung-Pya Villages. Two local sources who witnessed the incident confirmed that the junta shot these young men. They were accused of being linked with the local People's Defense Forces (PDFs) and breaking the curfew. They both were transferred to Bilin Township Public Hospital with the service of the Social Relief Association. It is confirmed that both have died of severe injuries.
Similarly, on March 23, at 8 PM in Ye Township, Mon State, a resident, Nai Win Kyi, was driving from the Kyaung Ywa village to Ye Township when the junta troops shot him. Again, he was accused of violating the curfew, and the LIB 61 based in Kyon-Laung opened fire on him. He died from two gunshot wounds," said witnesses who spoke to HURFOM.
More violence in Mon State saw locals indiscriminately targeted and fired upon. People who talked to HURFOM confirmed that the perpetrator responsible for the death of two 18-year-old villagers was a group of junta soldiers from Infantry Battalion, No. 8, temporarily based in Bilin township. On March 26, two villagers from Dauk-Yap village were shot and killed. Three other sources confirmed that the same soldiers forcibly seized the belongings of two locals from the nearby town.
On the same day, the same troops, led by Sergeant Mozet, extorted money (500,000 MMK and one smartphone) from two Shwe-Inn-Don villagers, U Myat Thu and U Ba Maung. They moved back to the security tollgate.
The junta's armed forces have continued to harm local inhabitants in southern Mon state. Some have lost their lives, some have been injured, and all cases ended without justice. The junta claims that they punished those who violated the curfew law. No Burma Army soldiers are ever held accountable for their crimes. On April 2, 2023, soldiers from Light Infantry Battalion, No. 106, reportedly shot at a motorbike with two brothers, ages 24 and 16, near LIB No. 106. base at 5 am. The young villagers went to their family's rubber plantation to tab the rubber latex for earnings.

Maung Pyi Soe had a bullet wound near his waist, while residents said his younger brother Maung Peti was injured in the leg: "We live between two fires, the curfew law, and the family's burden. If these villagers could work, they would be able to sustain themselves."
On April 2, 2023, at 2 PM, locals discovered that a man's dead body was found with bullet wounds near Ye-Thanbyuzayat highway road near Aung Thayar village of Ye, Southern Mon State.
"The body was found close to the hidden security gate of the military. The deceased was Nai Myint Naing, 47, a Maw Kanin villager from Ye Township. There were about 12 bullet wounds," said a local witness from Maw Kanin Village.
Comments