Weekly Overview: Human Rights Situation in Mon State, Karen State, and Tanintharyi Region
Fourth Week of March 2023
HURFOM: Indiscriminate firing continues to target civilians. Over the last week, the Human Rights Foundation of Monland (HURFOM) documented several incidents where innocent people were targeted by the junta and killed. A trajectory of violence, particularly in the Tanintharyi region, has caused widespread fear and uncertainty among local people.
On 21 March 2023, over 130 homes were burned to the ground in Long Lon Township, Dawei and six people were shot and killed after being taken into military custody by LIB 407 and 273 on 4 March 2023. Days later, the HURFOM reporters network confirmed that an innocent local villager was shot and killed in Long Lon Township. Joint troops of the junta's battalions then burned down more than a hundred houses in two villages. Yet again, on 21 March 2023, residents said a male villager was shot dead in Yange' village, Thayet-Chaung Township, Dawei, around 6:00 PM. The victim, U Htun Wai was over 60 years old, and was fired at by four unknown gunmen on two motorcycles.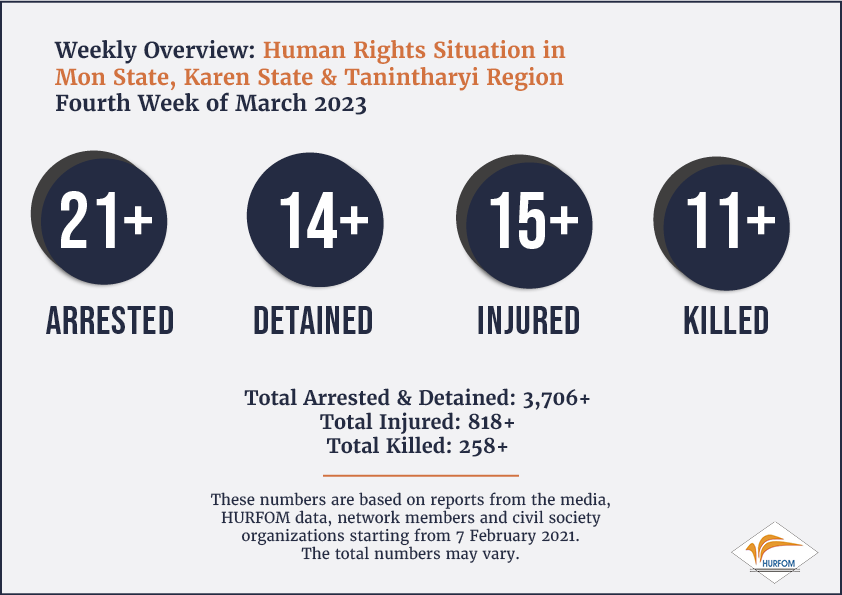 The lack of accountability and reliable mechanisms to ensure justice only prolongs the suffering of the people.
Women and children are among those who have been forced to flee the regime's attacks. Since 14 March 2023, one child has been injured, and more than 1,000 residents have fled their homes due to the junta's indiscriminate artillery weapons and drone attacks on the Moan Township, Nyaung-Lay-Bin District. The Administrative Office of the Karen National Union (KNU) also confirmed the incidents.
On 17 March 2023, at about 4:30 AM, there was a clash between the junta and the Karen National Liberation Army and their alliances' armed forces between Htwa-Nee-Gone Village and Sae-Palae Village. Then, the junta forces indiscriminately fired at least 40 mortars into those two villages:
"I saw more than eight houses and a community hall in the village have been damaged in Sae-Palae village; in the meantime, no one dared to go back to the village yet. Most villagers could not carry their belongings and livestock," a 35-year-old mother said.
On 18 March, the military council troops fired four artillery weapons and three drone attacks on the Yae-Le monastery, causing damage," a young Monk said. Due to the attacks, at least 1162 IDPs have fled. Every time they are forced to run, they need food and shelter.
In addition to targeting civilians, their homes continue to be looted by the regime. On March 21, 2023, at 10:00 AM, the joint forces of the junta and the state-backed militia forces in three military columns arrived at Tha-Kyet Taw village, Long Lon township, Dawei. They raided several houses, stole the belongings, and arrested fourteen male villagers.
They were divided into three columns. Local militia members entered Tha-Kyet-Taw village and indiscriminately fired artillery shells before entering the town. At noon, they started destroying the houses left by the villagers and stealing their items.

"They fired large and small weapons. Then they set up a temporary base in the school, located in the middle of the village," a resident said.
"They broke open the doors of closed houses. They rummaged through all the cupboards and boxes, then took everything they wanted," another said.
A total of 35 homes were destroyed. The remaining villagers were taken out of their homes and interrogated by the Army Commanders and their forces.
Comments