Weekly Overview: Human Rights Situation in Mon State, Karen State, and Tanintharyi Region
Third Week of March 2023
HURFOM: The military junta is targeting women and children across Burma. In documentation areas of Mon State, Karen State, and Tanintharyi region, the Human Rights Foundation of Monland (HURFOM) continues to document the ongoing human rights violations perpetrated by the junta. Most recently, HURFOM fieldworkers reported that an innocent 6-year-old boy from Shwe Yaung Pya village died after being hit in the head by artillery mortars fired indiscriminately by No. 314 Artillery Regiment Command base in Zee-Won village, Bilin, Mon State.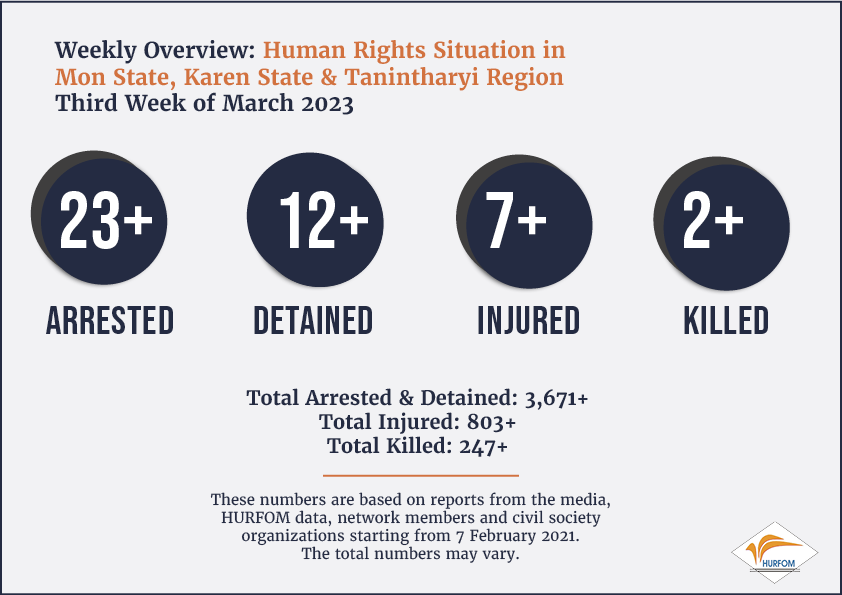 The young child was in the area with his family on 18 March when the attack came around 3:30 PM. Bilin-based AR No. 314 opened fire with artillery weapons in the village, and a shell hit Saw Phoe Thagyan. He was killed instantly.
"The parents were safe; however, it was a heartbroken scene to see such a loss in front of them," said a 37-year-old woman who witnessed the incident.
Women were once again targeted over the last week by regime soldiers. On March 9, 2023, the junta forces arrested two young women near Kalein Aung Town, Yebyu Township, Dawei District, in the Tenasserim Division, and sent them to their military-run interrogation centers.
The women were identified as 17-year-old Ma Kay Thi Thi Lin from Zin Bar village and 18-year-old Ma Thet Myat Noe from Kyauk Shut (Nwe Le) village. They were on the way to buy mobile phones on their motorbike when they were stopped and arrested near a bridge on the way back. Residents told HURFOM that since the women were arrested, there has been no contact with them.
According to local sources, the women were first detained at the Kalein Aung Police Station and then transferred to the interrogation center at the 410 Light Infantry Battalion (LIB) on March 10, 2023.
On 7 March 2023, HURFOM released our latest report, "We Dare Not Return," which found additional evidence of crimes committed against women and children. Between 1 January 2022 and 31 December 2022, HURFOM reported that at least 146 people were killed, including 26 women and children. In addition, more than 480 were injured, and nearly 1500 were arbitrarily arrested and detained.
The ongoing attacks further indicate the junta's disregard for human life. Across HURFOM's target areas, civilians continue to suffer from baseless attacks by the Burma Army's military forces. The imposition of martial law in townships in HURFOM target areas has worsened already debilitating conditions. On February 14, 2023, the Light Infantry Battalion LIB 106 arrested Nai Tint Wai, owner of 'the Yadanar Men Gas Station' in Mawkanin village, Ye Township, in Mon State. One week later, the detainee was transferred to the MOMC 19th Light Battalion based in Ye Township.
He has not been allowed to meet with his family members.
"We don't know why he was arrested. His family members have sent food to him but have no chance to meet with him. We don't know anything about his situation," said a villager close to the detainee's family. Since the junta imposed martial law and a curfew (6 PM to 6 AM) throughout Ye Township, more innocent villagers have been killed and arrested by the military junta.

Again, on March 12, at 7 AM, three innocent villagers from Zardi village, Kanbauk Region Yebyu Dawei, were arbitrarily abducted from their home by the junta Naval Command known as Mawrawaddy Naval headquarters based in Kanbauk, Yebyu.
"U Aung Min was sentenced to two years under Article 505 in May 2021 for allegedly leading anti-regime protests and was released on an amnesty a few months later. It is the second time he was arrested," a relative of the detainee.
"It seems like the Junta forces, and their backed militias already have a list of who they will arrest. They are waiting for a reason to arrest them," said another Kanbauk resident.
Comments