Weekly Overview: Human Rights Situation in Mon State, Karen State, and Tanintharyi Region
First Week of March 2023
The Karen Peace Support Network (KPSN) released a new report this week, which estimated the total of internally displaced people in Karen State at over 500,000. Documentation by the Human Rights Foundation of Monland (HURFOM) supports their findings as increased violence by the junta across Southeastern Burma continues to threaten the lives of civilians.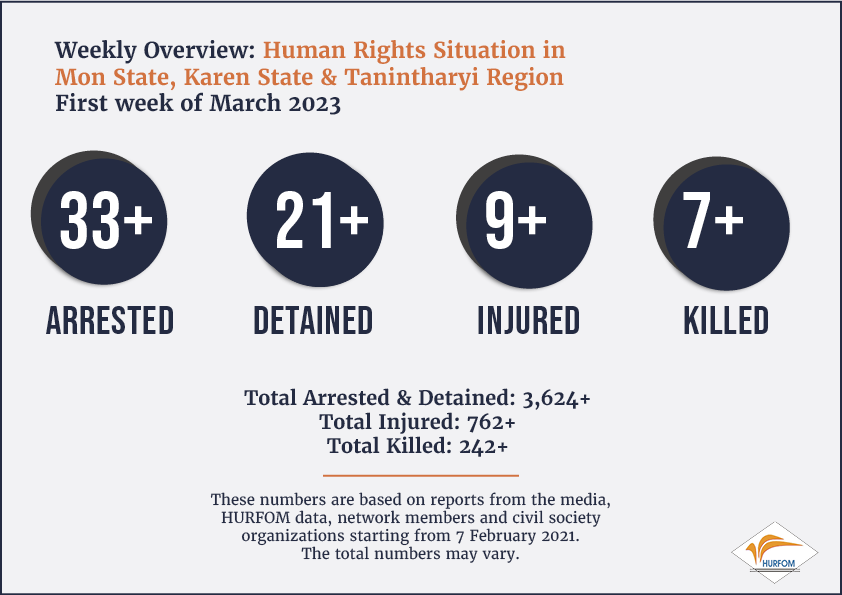 In addition, Martial Law, which has been declared in several townships in HURFOM target areas, allows military impunity for the crimes the junta routinely commits to thrive. Our latest briefing paper, "We Cannot Move Freely," shows how the regime has used Martial Law in Southeastern Burma to commit more atrocities. An estimated fifteen people have been arrested in Kawkareik township, Karen State, since Martial law was announced on 2 February 2023. Security has been increasing in the township.
Early on, when martial law was imposed, some villagers did not understand what it meant, nor were they always aware that the nighttime curfew was in place: "Those arrested did not know about the curfew. They thought they'd be allowed to go outside if they went to work."
The imposition of martial law and the careless arrests made by the junta's forces has meant that many people cannot make a living now.
Meanwhile, the arbitrary arrests of civilians are ongoing. There have been continued reports of the arrest and detention of innocent civilians in Tanintharyi, southern Burma. The junta forces arrested four residents from Yebyu, Dawei, between 24 – 27 February 2023. The detainees were originally from the Kanbauk area; three men and a woman from Payaywa were arrested at their home by the junta security forces. The soldiers arrived with the 'wanted lists' and knocked on the doors at midnight. They abducted civilians in army lorries. According to a local witness, two were arrested on the evening of 24 February 2023:
"We are in the middle of a living hell right now. The junta is making any excuse to arrest us. Every day there are more rules strictly enforced. Sometimes, people are arrested, then paid a ransom and freed. Those taken away are innocent," said a local.
On February 27 at midnight, Ma Nway San, age 40, was abducted by the Light Infantry Battalion 273 in Kanbauk with no arrest warrant.
HURFOM also confirmed that seventeen individuals with no ties with the Spring Revolution or opposition armed forces had been arbitrarily arrested while travelling, during midnight raids and at security toll gates. On February 28, 2023, locals reported that about twelve civilians were arrested after military troops and police raided their homes in Chaung Gyi, Chaung Nge, and Lae Taung War Wards, Tanintharyi. "They just knocked on each door and abducted people. My cousin, a 34-year-old female shop owner, was also abducted from her house," said a family member of one of the detainees.

Again, in Palaw Township, Southern Tanintharyi region, junta security forces and police repeatedly detained local villagers on baseless accusations of supporting the armed resistance movement. Last year on February 24, 2022, the junta forces entered Shut Pon village, Palaw Township. They arrested two members of the People's Defense Forces hiding in a monastery, and later on, a Senior Monk of that Monastery was also taken into military custody.
While the regime continues to commit its atrocity crimes, families are fleeing Mawlamyine, Mon State, as the junta attempts to forcibly recruit soldiers for their armies.
Comments