Weekly Overview: Human Rights Situation in Mon State, Karen State, and Tanintharyi Region
Fourth Week of February 2023
HURFOM: Across Southeastern Burma, civilians remain in crisis. Internally displaced people (IDPs) who fled their villages in Karen State were again attacked by the junta while seeking safety. On February 19, around midnight, the junta air force shelled an area where IDPs temporarily sheltered in the southern part of Kawkareik, Brigade 6 of the Karen National Union (KNU). At least three IDPs, including a child, were injured. A local service provider team member confirmed that three individuals, Naw Hla Htwe, age 36, Saw Pha Kyaw Do, age 44, and a 14-year-old girl, were struck in the attack.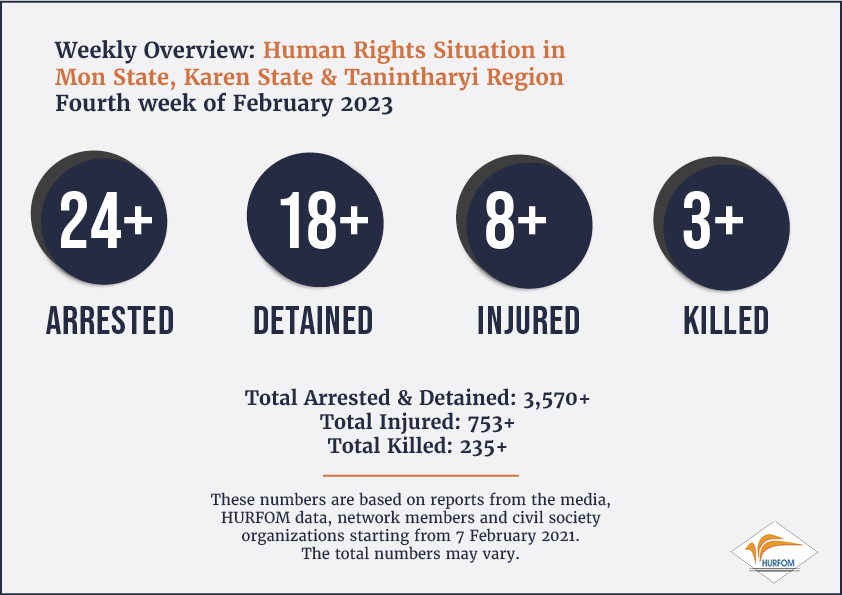 "Although the military targets armed opposition groups, including People's Defense Forces, their assaults affect innocent people. Now, they repeatedly attack people who fled their homes. They are committing war crimes, and we urgently need help from those who can stop these terrorist groups," a local emergency response member who spoke to HURFOM said.
Karen State was hit hard by the junta's violence over the last week. Junta forces indiscriminately fired heavy weapons into Karen villages in Phyue township, KNU Brigade two areas, killing an innocent woman on 21 February 2023. Two children, ages 5 and 12, were seriously injured, and two innocent people were arbitrarily arrested and tortured:
"Three mortars exploded on Ma Myint Myint San's home. All of the household family members were inside. The perpetrator was the junta's Light Infantry Battalion No. 599, led by Captain Min Aung, who intentionally fired 120 mm of artillery shells into the village of Kyuntaw. Ma Myint Myint San, aged 38, died on the spot as a result of the explosion, while his daughter, Ma Hnin Myat Mon, 12, was hit in the right leg, and his son, Maung Yan Lin, age 5, had his left leg and was seriously injured."
In the Tanintharyi region, civilians who spoke to HURFOM reported that more than 165 houses in their village, Kadae, Palaw, the southern township of Tanintharyi, were burned in two days by the junta forces and said everything they had worked for in their lives was now gone. Kadae village, Palaw township, has approximately 400 households according to the census, and the town was included in the Junta's Martial Law decree imposed on February 2 of this year:
"Those burned houses and buildings included a monastery, trucks and other vehicles as well as properties worth 800 million Myanmar Kyat," as estimated by a 35-year-old villager who fled the conflict.
From the night of February 15, more than 2,000 residents of Kade village have taken refuge in the nearby forests and farms. They need urgent aid.
The junta increased the use of banned landmines in Martial Law imposed areas, including southern Mon state. In three weeks, the civilians injured by indiscriminate landmines were wounded at least three seriously, according to the reports from the HURFOM field team.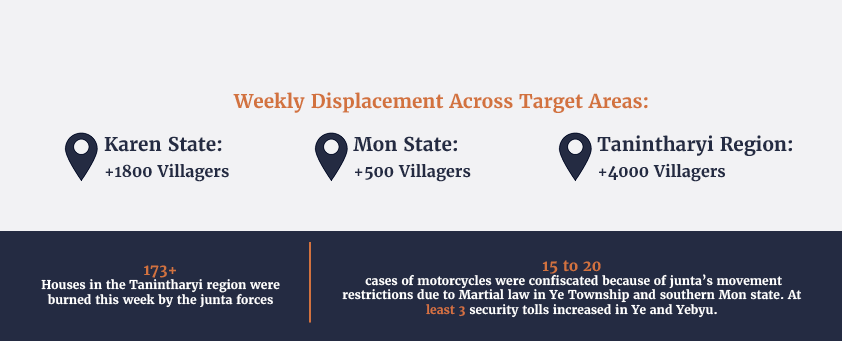 The latest indiscriminate landmine victim was Nai Nyunt Wei, age 40, originally from Mawkanin village, Ye township, who was seriously injured by a landmine near the bridge on February 17. The location was near the notorious Infantry Battalion of Junta No. 106. On February 2, 2023, a 55-year-old man from the same village returned from his plantation by motorbike and stepped on a landmine near Joe Ta Dar stream. He suffered a leg injury and was treated at the Lamine Hospital. Due to these three landmine victims, within two/three weeks, villagers were afraid of going to their plantations and started to abandon their livelihoods.
Comments