Burmese military arrested villagers and use them to serve as porters
HURFOM: On November 15, 2022, there was a major armed clash between the Burmese military and the combined units of the Karen National Liberation Army (KNLA) and the People's Defense Force (PDF) near Lut Shan village, Kyarinnseikyi Township, Karen State.
After the incident, the military arrested rubber plantation workers and forced them to serve as porters, according to a local source.
"After the armed clash, my nephew returned from the rubber plantation. When he was near Japan Mount, the military arrested him and another person. The two men were riding a motorbike. They abandoned the motorbike beside the road. The father-in-law of my daughter was also arrested at his home," said a family member of villagers who was also forced to serve as a porter.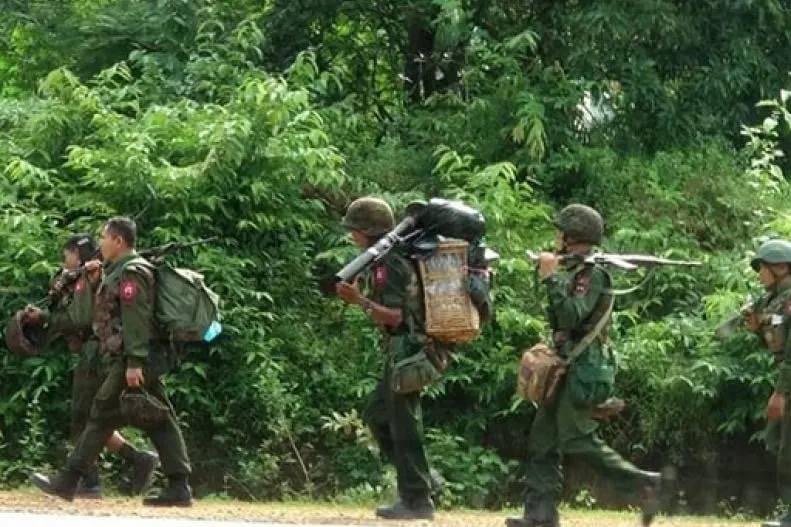 The two individuals were released on the same day, October 15, and arrived home at about 10 pm.
"There were about 50 people. They arrested us and forced us to carry their bags. Two men ran away and the military shot at them with guns about five times. I don't know if they're dead or alive," said another villager who was forced to be a porter.
"After hearing the sounds of gunshots, aircraft and air assault, we knew that the armed clash was severe. We also saw soldiers nearby our plantations. We decided to go back but the military had already closed the gate on the way to Three Pagoda Pass – Thanbyuzayat Road. We were also informed that the military arrested villagers to use as porters on our way back. So we took a shortcut to go back home," confirmed a rubber plantation worker from Lut Shan village.
Lut Shan village is located on the border of Kyarinnseikyi and Thanbyuzayat Townships and near Japan Mount in Thanbyuzayat Township.
Comments