Weekly Overview: Human Rights Situation in Mon State, Karen State, and Tanintharyi Region
Second Week of November 2022
HURFOM: Across the first two weeks of November 2022, the Human Rights Foundation of Monland (HURFOM) has already documented cases of murder, arbitrary arrests, and abductions. The first of our report on human rights violations by the junta over the last fourteen days can be viewed on a map indicating the abuse, and the location in Southeastern Burma where it took place. Civilians of all ages continue to be targeted by the military junta. The lack of accountability has only emboldened them to commit further acts of atrocity with impunity.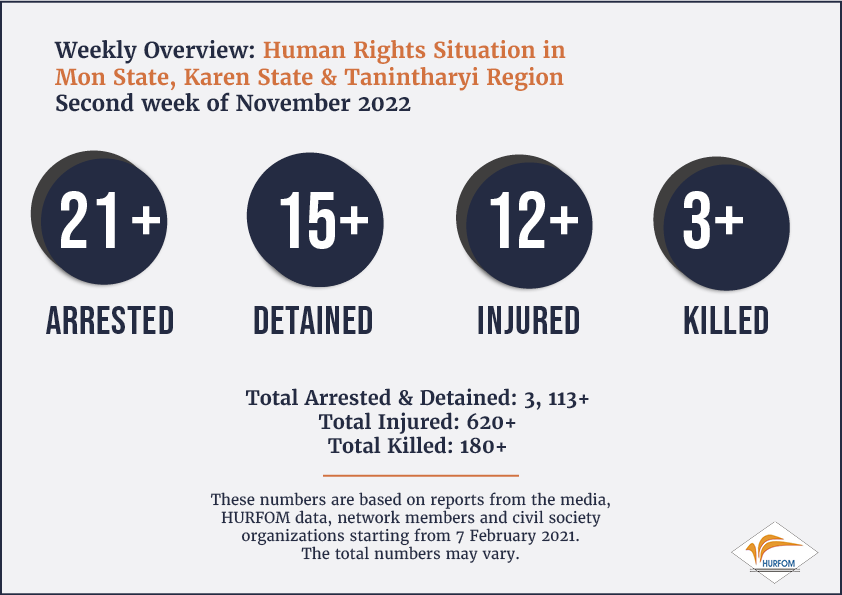 Extortion of local possessions and homes is being done systematically across the country by the Burma Army. On November 4th, joint forces of Junta battalion No. 408 and their backed militia forces entered the Mudoo village in Nabulae, Yebyu, in Dawei, and forced open the doors and shops in the village belonging to villagers. They seized belongings worth 10 million Myanmar kyat (approximately 4800 USD). A local villager who spoke with HURFOM reporters said junta soldiers kicked the locked doors with their boots and guns. Some stole items from ownerless homes and shops: "These incidents happened early morning, but the soldiers came to the village again at 10 AM, after one of their informants was shot. They destroyed the houses and properties of the villagers with anger. They took everything they saw," residents said.
At around 8:30 AM the next day, another group of soldiers arrived. Again, they broke down four vendor shop doors and stole dry foods, canned foods, and bottles of alcohol. They completely destroyed two shops. In total, at least 12 houses and 4 shops were raided. Even internally displaced people (IDPs) who have abandoned their villages in fear have had their remaining possessions destroyed by the military. Junta forces destroyed the leftover homes and robbed the valuables left by the IDPs and local inhabitants affected by armed clashes in Dawei, according to those who fled the junta offensives in Tanintharyi Region, Southern Burma.
On November 7, 2022, in Myeik District Tanintharyi Township, HURFOM received news that locals said the junta forces, Infantry Battalion No. 101, burned down four houses in Nyaung Ping Kwin village, Myeik District. They did so because they accused local villagers of supporting local resistance forces. This is a common excuse used by the junta to terrorize and extort innocent villagers.
On November 5, 2022, at 5 PM two innocent civilians were grabbed by junta security troops on accusations of being affiliated with local People's Defense Forces (PDFs) in Boke Pyin Township, Southern Tanintharyi Region. The victims were Ko Han Min Kyaw, a Manager of Yuzana Oil Palm Company, located in War-Chaung village, Boke Pyin Township, and Ko Min Lwin, an ordinary villager of the same village. "They were accused of being PDFs. They were beaten while the junta forces arrested them," said a 40-year-old witness. Over the last five days, at least eight innocent civilians and ordinary locals have been arbitrarily abducted by the junta forces and junta's military intelligence units in this area. All arrestees have disappeared.

Destruction of civilian properties is ongoing. On November 8, 2022, junta forces attacked four villages in Myeik District, Southern Tanintharyi Region, and destroyed at least 16 civilians' houses by setting fires: "A woman villager from Sedawyar village was seriously injured by the indiscriminate gunfire while they entered. Now, she is in critical condition and is facing a lack of medical treatment," a 28-year-old resident of Sedawyar told reporters. "Until now, the junta soldiers continued to threaten and fire indiscriminately with guns along the procession route," he continued.
The villages attacked and burned down by the junta were Tapo village, Too-Ywa village, Sedawyar, and Kye-Ywa village, located under the administration of Pa Law township.
Comments